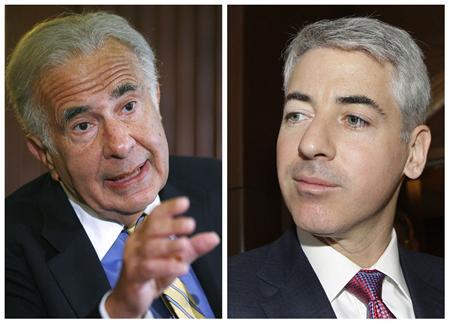 If I was Bill Ackman, I'd cover the entirety of my HLF short position tomorrow and let Carl have the company.
Just a short while ago, Icahn announced a very long position in HLF, acquiring 12.8% of the company–joining Dan Loeb in a whimsical quest to eviscerate the sexual deviant, Bill Ackman. I wonder if they really even know anything about Herbal life?
What's more dangerous than a 76 year old man with $15 billion in the market, hell bent on putting you out of business? Let's face it, Carl isn't going to quit. He just made $600 million saving NFLX; now he's going to place Bill "Mars Attacks" Ackman inside of a "Brazen Bull" to see him cook–ever so slowly.
Shares of HLF are up so much in the after-hours, Bill Ackman defecated his pants (no Carnival Cruise Ship Triumph).

If Ackman doesn't come out on top of this one, his reputation will be ruined. Carl has publicly humiliated Ackman, questioning his investment acumen, and now he's going to make him pay with his partners capital.
With this move up, Carl just made $100 million and Bill lost $200 million.
Icahn will be interviewed tomorrow, on CNBC, to shovel more dirt in the face of Ackman–must watch teevee.
Let the games begin!
***EXCLUSIVE***: Footage of Bill 'Mars Attacks' Ackman upon receiving the news of Carl Icahn's position.
http://www.youtube.com/watch?v=ofSp-j1R4fw
If you enjoy the content at iBankCoin, please follow us on Twitter