3 Found Dead in Hunting Accident
Asshatville, America— Police are investigating a tragic hunting accident, where 3 bloggers were found dead, with high caliber punctures to their moustaches.
One witness at the scene, who goes by the name of "Howard Lindzon," said "I saw some guy throwing bowling balls out of his 80′s style stretch limo, then shots rang out like OMG. I haven't been so scared since a bunch of rappers came into my favorite gay bar and beat us all senseless."
Police are on the lookout for a white vintage 1984 limousine, with the license plate "BWL ON YOU."
The victims were identified as Vertitas5, Ripetrade and Zmoose.
Pick the THREE candidates LEAST deserving of an iBC blog. [

617

votes total]

Jakegint (80)

13%

Cuervoslaugh (107)

17%

Ripetrade (149)

24%

Zmoose (158)

26%

Veritas5 (123)

20%
In other news, the Godly folks at iBankCoin will be electing the next "tabbed blogger" tomorrow, at The PPT. For those of you who are interested in voting and checking out the best financial tool ever invented, it will cost you $2.
Click on invite, if you are interesting in partaking in a democratic event.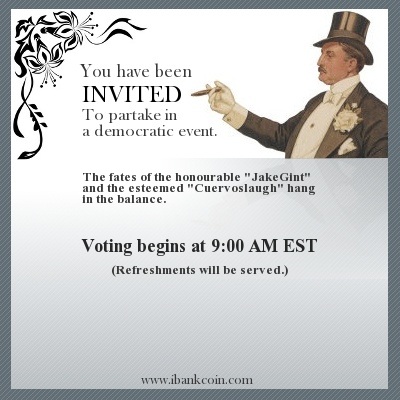 40 Responses to 3 Found Dead in Hunting Accident
Zombie is missing
What a run I had… Fun while it lasted, indeed (Special thanks to everyone who kept me in it for as long as they did).
My vote will go to cuervoslaugh. His articles are phenomenal and his market intelligence is great. It'll no doubt be a close one tomorrow, for JakeGint is someone who I really enjoyed reading throughout the election process. Good luck Gentlemen!
You all did great.
where's my apology losers?
Congrats to Cuervos and Jakey.
The top five were all fine candidates. I have really enjoyed all your posts.
Oh God, it's going to be like a party, isn't it?
Now I have to go find a party avatar. Black tie event, I suppose.
Good luck Cuervo and Jake. Should be a close one.
signed up, got user/pass, try to logon, cant. get selct payment method..powered by wordpress, loop
Haha, that's a great idea, Chanci! I'm going to go get dressed now. =]
It was and is impossible to choose. I wanted Boca, but wish all could have won. Hope all of the candidates keep posting as often as possible after this is done. Zmoose, you too.
It was and is impossible to choose. I wanted Boca, but wish all could have won. Hope all of the candidates keep posting as often as possible after this is done. Zmoose, you too.
Best of luck Jake and Cuerv!
Hey folks, be patient with the new subs. It will take a few minutes between Paypal and WordPress to get their stuff straight. Once they communicate, you will be ushered into the PPT.
I'm not going anywhere chanci, promise!
crickets..
Fly-
PPT rocks !!! Great job!!!
guess ill get drunk and see what my 2 dollars get me tomorrow
Jake:
It's you or Cuervo.
A little salt and a lick of lime sounds nice.
Salud, mi amigo
Folks,
I dropped some good LSD shit today and this is what I've seen;
The top for the year has been reached today! Short at will and yes, load up on gold!
Sorry Joe,
Think gold is going to test between 700 and 750.
where is my passcode:D
All the above, are Tab worthy.
RIP Vertitas5, Ripetrade, Zmoose.
Jake: it's on.
To the winner goes the spoils.
Whatever that may be.
If somehow Jake Gint wins this bauble, Fly will need another contest to find someone who can translate what he's talking about. Go Cuervos! I vote for clarity.
Sorry to see Ripe, Moose and Truth go, and even more so old friends DPeez and Boca.
I certainly appreciate the support of those able to understand me.
___________
registered last night….till now no accunt details:(
I'm still waiting for my PPT password. I got an email from Paypal telling me that my payment went through, then I got an email an hour later from PPT stating: This is a notification to inform you that your payment was successful for recurring subscription of 2.00 USD every 2 days. No password.
That's the last communication. Help!
If you can't understand Jake buy me at $49.99 for three EZ montly payments.
Gracias for all the dinero on my IPO.
Plus a free Michael Phelps bong.
Sorry Joe,
Think gold is going to test between 700 and 750.
And to think… I came this close to naming my precious daughter "Fiona!"
________
To straighten this fuckin' country out, slap a 110% tax on all income above $250K; get rid of 75% of the bankers and stockbrokers and put those fuckers on the end of a broom or shovel
at $25K a year; get rid of the fuckin Health Insurance business and put THOSE fuckers to work babysitting in schools till 10PM in a lighted schoolhouse program.
There AIN'T no manufacturing jobs that are gonna show up so put the deadwood t6o work doing SOMETHING useful, not fleecing the public.
Looking at some charts all the inverse ETF'S in the Dow and SP500 are set up to enter next week. Stay away from anything in the Nasdaq. Do not buy any today and wait for good money flow and low risk set ups to enter. Charts are for kids but there is a lot of kids out there.
Citi numbers smell like old tits…they are fucked.
For Jake's eyes:
Watching ABX,AEM to see if they can lead gold stocks off the floor this AM.
so you know the smell of old tits?
I formally accuse you of scummery for charging us plebes $2 for the right to vote.
I hope this formal accusation lodges somewhere in your subconscious and brings on a nightmare or something…
-DT
PRICERUNNER, What do you mean by "set up to enter next week"? Set up to go up or down?
TC — yes AEM looks veddy interesting here… revisiting that $44 zone again…
________
Citi numbers smell like old tits…
Oh crap, now I need to get the coffee off all the little nooks and crannies on my widescreen monitor…
_________
Pingback: Rising Wedge Formation Nearing Stress Point | Technical Analysis, Equity Markets -- iBankCoin
bowling balls are quite dangerous to the hands of a newbie and untrained bowling player.".