Things are bad enough without the sophomoric CUNTS in the media making things worse. Let me tell you the type of people who take up journalism.
FT published this tidbit regarding WAL exploring options for their shit company.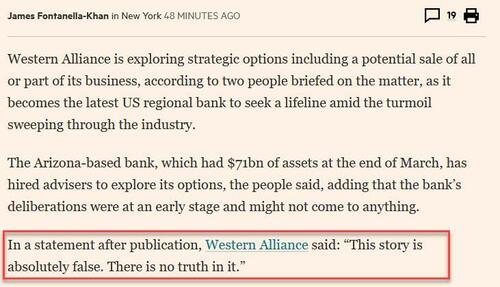 Joyfully, I was enjoying a full collapse of western finance as we knew it.
And then…this happened.
$WAL THREATENS TO SUE FT OVER ALLEGED FAKE NEWS STORY SUGGESTING THE BANK WAS LOOKING FOR A BIDDER ***

— The_Real_Fly (@The_Real_Fly) May 4, 2023
And we saw some whip-sawing of stocks, mostly to the upside for the banks based off the notion that FT was just making shit up. Things are hard out there, on par with the wild bullshit I had to deal with in 2008 when Charlie Meatball Gasparino interrupted by trading day 4 times a day for months in order to disseminate some bullshit rumors about bailouts and deals. 99% of them turned out to be false and if you're up for some digging, you can find all of that shit in my archives — as we go back here, way the fuck back, to 2007.
I am still wading into shorts here, with a watchful eye on CARL ICAHN's IEP, which is apparently on the menu. I bought some back and almost instantly lost some money in it; but I have reserves to buy more — as I am only 157% leveraged to the fucking hilt trying to sort out this fucking God damned mess.
If you enjoy the content at iBankCoin, please follow us on Twitter