TerraUSD is supposed to remain "stable" to the dollar, as part of one of many crypto funding schemes that I will not pretend to even begin to understand. What I can relay to you now is a massive crisis happening in cryptos, stemming from this stable coin decoupling to Mr. Saylor's MSTR now underwater on his BTC, and rumors of margin calls at his company.
THIS IS NOT A GOOD LOOK FOR CRYPTOS.
This all harkens back to Tether funding schemes and now one wonders if this could happen to TerraUSD — can it happen to others?
LUNAUSD is also in collapse mode, not to mention just about every other crypto out there.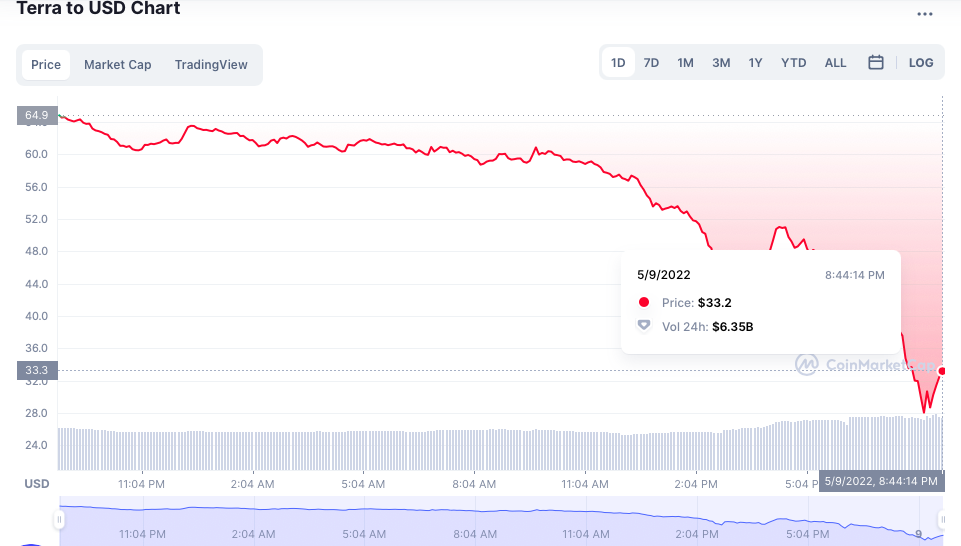 People parked money in this so called "stable coin" for security and it turned out to be a scam, on par with money markets breaking the buck. Unless they get a bailout, which I doubt, this will have lasting effects on the entire crypto space and the stable coin concept forever.
If you enjoy the content at iBankCoin, please follow us on Twitter