Big news broke this week on the approval and imminent issuing of the first American Bitcoin futures ETF. Many think Bitcoin's rally was accentuated by this news and for good reason. Many older investors have no idea how to open up a Coinbase account and haven't any exposure to BTC. With this ETF asset allocators and advisors can now purchase BTC for their clients, providing compliance approval.
Before this grande luxury, retail has sufficed with buying the stocks of crypto miners and/or companies who buy BTC with cash and bond issuance. But is it profitable in comparison to just owning BTC outright? Indeed it is.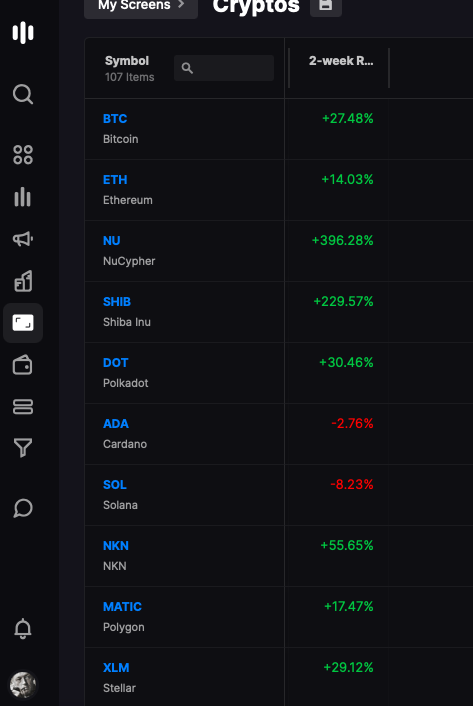 As you can see BTC has appreciated by a staggering 28% in the past two weeks. The wealth created is palpable, especially when considering the ethos of crypto investors is to eschew diversification and go all in on one coin, most of the time ETH or BTC. This idea is lunacy for stock investors and if anyone was to invest all of their money into just 1 stock, such a person would be viewed as mentally addled.
Alas the topic if discussion. How about those miners?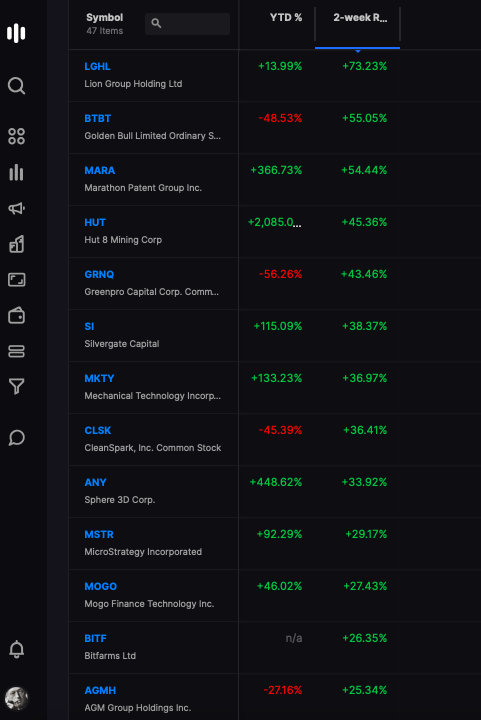 Outperformance! Some of those above are small and should be ignored. But the larger ones, such as MARA, HUT, SI, MSTR, BITF and even CLSK are large enough to take seriously. A notable absence is RIOT, which is a puzzle to me and I can only assume some helter-skelter type chicanery is going on inside the company, led by irresponsible management.
Newly public COIN is up 22% the last two weeks, settling the matter of whether miners are able to keep up with the appreciation of the underlying coins. I'd imagine, at some point down the line of these businesses, dividends will be issued — further incentivizing investors to own these stocks for longer periods of time instead of trying to catch a wave of ebullition.
If you enjoy the content at iBankCoin, please follow us on Twitter