There I was, oh indeed there I was. Markets were up sharply in the pre-market and I was quite pleased with myself, quite pleased indeed. I went on over to he kitchen to make some coffee — scrubbed my stainlesss steal French Press and even shined it to perfection. I brought some water to a boil and dropped 3 tablespoons (rather precise) of Cafe Du Monde half chicory, half coffee blend into the container and then poured the water in, gently.
My oven was ringing. Must be the mini chocolate croissants I heated up for myself. Rather delicious treat on a day like today, dare I say. I grabbed a plate and placed the warmed croissants on them, took a large mug and poured a little milk in it and then balanced all of it onto my laptop, in addition to my iPad and iPhone and then descended downstairs into my walk-out basement — where I keep all of my monitors and PCs humming for trading.
With one arm balancing all of that, hot teeming coffee inside of my wonderful stainless steel French press, I took the other hand and slammed the door shut behind me — because the fucking dogs. I entered the office area downstairs and felt like classical music. "Why not?" I asked myself.
"Alexa — put on WQXR.'
She complied.
I walked over to this round mini table where I usually place my coffee, it's up against a wall which is sandwiched between a large window and the walkout door to the yard. A wonderful view of the water is just ahead and the climate was nice and comfy this morning, so I was feeling good, in both mind and spirit.
I leaned over to place this Rube Goldberg contraption down onto this book I have on the table, a book about castles in England and Ireland, and what happened next is something of a tragedy.
THE ENTIRE FUCKING FRENCH PRESSS LEPT OUT FROM MY HANDS, as if I was a waiter in a scene out of a bad comedy, and it crashed against the wall — disconnecting and spilling in its entirety onto the floor — Cafe Du Monde grinds FESTOONED all over the walls like I killed a bag of Folgers with a log splitter. Then my laptop fell into the coffee traveling fast towards my area rugs and then my iPhone. It fell face down into the coffee spill and then a chocolate croissant (I saved one and ate it) and finally my iPad.
I ran into the bathroom and took one of Mrs Fly's favorite towels and sopped it alllllllll up. I took the towel and sopped it up!
I have been cleaning Cafe Du Monde coffee grinds for the better part of the last 30 mins.
Time to trade now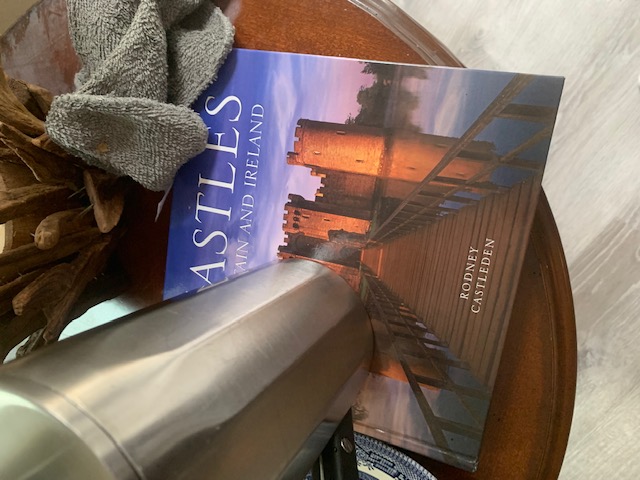 If you enjoy the content at iBankCoin, please follow us on Twitter