Thank God I did not hold TAL overnight. The nightmare you all knew would come one day is here. China has banned foreign investment into their educational sector. Coming off their 100% RAPING of DIDI investors by forcing them to STOP DOING BUSINESS right after they IPOd, one has to wonder WHY THE FUCK ARE WE STILL ALLOWING ANY CHINESE STOCKS TO IPO here and more importantly — what the fuck is China doing? This is a grievous assault on American investors. Where the fuck is the SEC? Why aren't we hearing rumblings in the Senate?
LOOK AT IT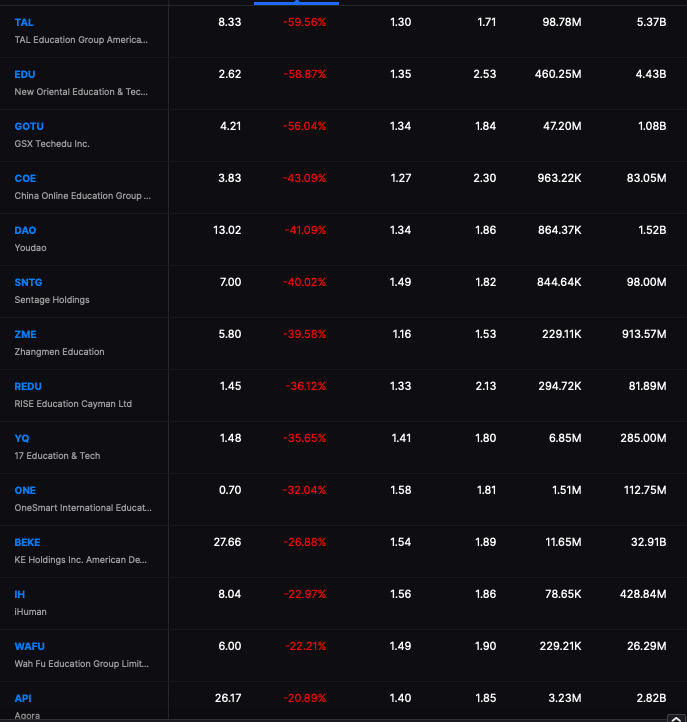 If I was long any of these names, I'd be seething right now. This isn't right and head should roll for this. What heads should roll is anyone's guess. Life has been difficult enough for people than having to deal with this absolute nonsense.
As to why China wants foreign, specifically AMERICAN, investment into their education stocks is 100% understandable. American culture and education is toxic and shit — lead by fagLORDS whose goal is to mind-rape the minds of the youth, in order to indoctrinate them into their perverted and degenerate way of thinking. The problem with American education and more or less ALL WESTERN education, is that the mantra is the same across the board and none of it is consistent with national interests. It is a Trojan horse into destabilization. Knowing that, I do not blame China for what they're doing. But it's just fucked up to see it. Then again, I suppose China thinks people who make 5 years olds put condoms on bananas are fucked up people too, so there's the rub.
If you enjoy the content at iBankCoin, please follow us on Twitter