Wall Street is very fickle and trendy. When a trade works, fuckers dive into similar strategies in an effort to repeat their success. We've seen this happen in cannabis, blockchain, biotech, Chinese burritos, and any number of hot sectors running hot due to nothing but the mood.
Enter JMIA — 'The African Amazon.'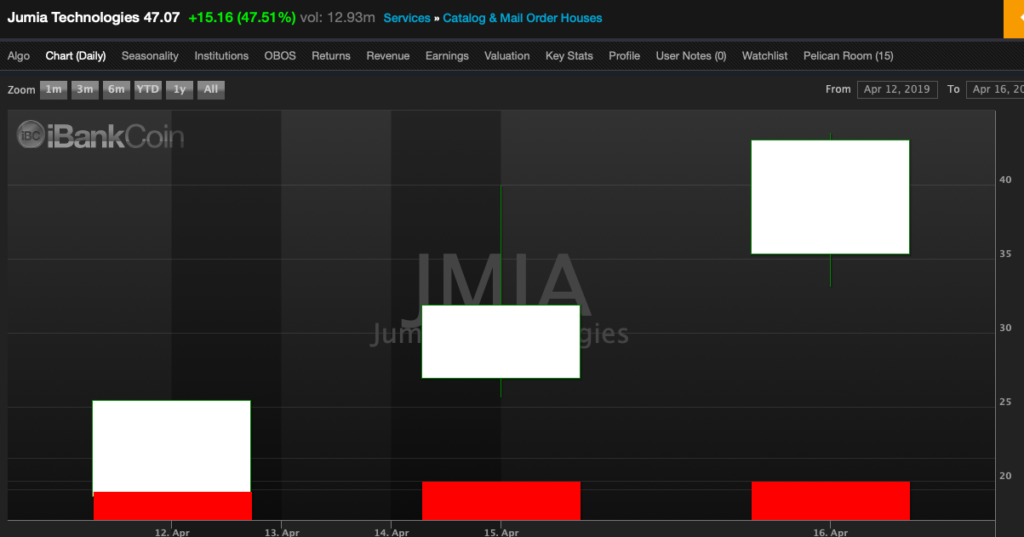 The gains enjoyed in this stock happened so fast and with ease, it has replenished the coffers of many trader/degenerates trading fast and reckless. Those proceeds will not roll into PG or CLX, but into other fast sectors and stocks. I suspect the new trade will be recent IPOs. I've got screens running inside Exodus and have already nailed a few of these trades — presently betting on TUFN, VIOT and GSKY. There are others, mind you, and I am prepared to search for them until my eyes bleed.
The trade is simple. Find recent IPOs trading near 52 week highs and buy the fuck out of them.
If you enjoy the content at iBankCoin, please follow us on Twitter