You have to know these people exist, if you're gonna play the game. No one knows why we must retest the lows, only to resume straight up — but we do. We always do.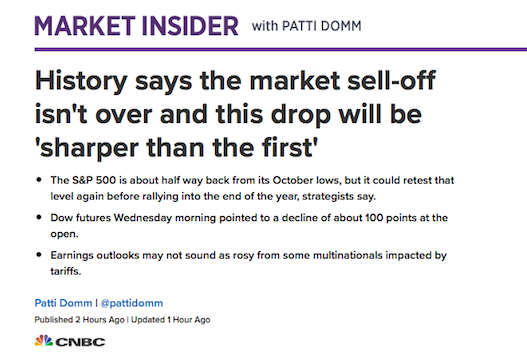 "This is the second decline of this year of 5 percent or more and two out of every time we had more than one decline in a year, the second decline was sharper than the first," Stovall said. The S&P 500 dipped to 2,710 last week, a 7.8 percent decline from its all-time high in late September. In February, the S&P was down nearly 12 percent at its low.

"There could be a test of the lows. I'm not surprised that tech, consumer discretionary are leading the way [higher] because they led the way downward," said Stovall. He said if there is another flush out to lows, it could come before the Nov. 6 election.
Markets are getting punished and I sold NEPT and YGYI — getting caught in a FUCKING SECONDARY on the latter. Whatever. I'm 15% cash now, heading for a sandwich break. While I remain bullish and believe the lows are in, I am not convinced the retest the lowFAGS will go away so soon.
BEWARE.
If you enjoy the content at iBankCoin, please follow us on Twitter