One of the big cases for short sellers of TSLA was their cash burn and the fact Musk needed to raise money. He said during his conference calls he did not need to raise cash and would not, which raised eyebrows amongst the analyst community.
It's important to note that although the Saudis snagged a $2b stake in TSLA, none of that will go into the companies coffers. In fact, Musk rebuffed their offer to sell shares directly.
Source: Zerohedge
Saudi's Public Investment Fund (PIF) built the undisclosed stake of between 3 and 5 per cent of the electric vehicle maker's shares this year, according to people with direct knowledge of the matter.

Interestingly, The FT reports that PIF initially approached Musk about purchasing newly issued shares but Musk reportedly rebuffed the offer – perhaps anxious of the perception of further dilution and the promises he made of the need for more capital.

Note, however, that Tesla gets $0 from this secondary market investment – at a time when the carmaker is losing a record amount of money.
Nevertheless, Musk is taking this opportunity to fuck with short sellers, implying he'll take TSLA private.
Am considering taking Tesla private at $420. Funding secured.

— Elon Musk (@elonmusk) August 7, 2018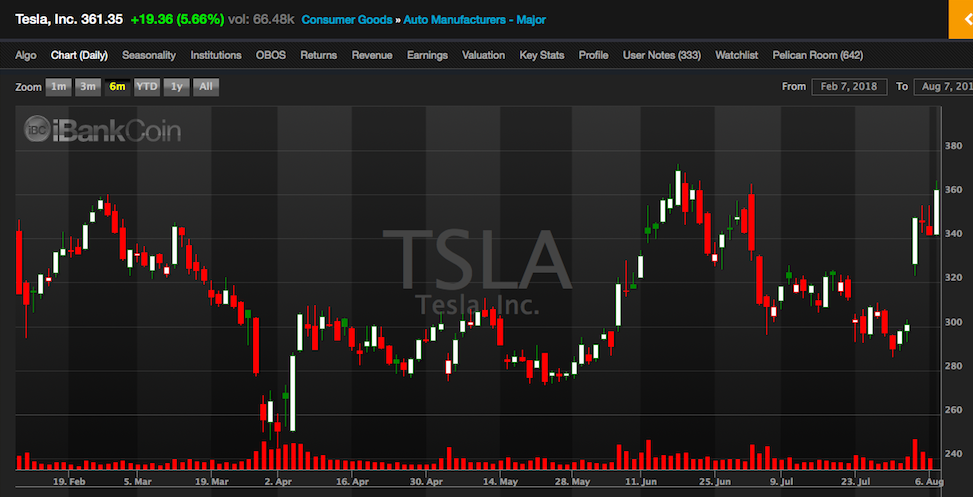 Here's Elon vs shorts $TSLA: cc: @elonmusk pic.twitter.com/1feb6S9jA6

— The_Real_Fly (@The_Real_Fly) August 7, 2018
If you enjoy the content at iBankCoin, please follow us on Twitter