So much bad news, where to start?
Let's start with the most important chart of the day, the Turkish Lira. This is some bullshit right here. At 30% debt/GDP, Turkey has one of the best balance sheets in EM — yet market forces have sent their currency into a tailspin. Erdogan must've pissed someone off.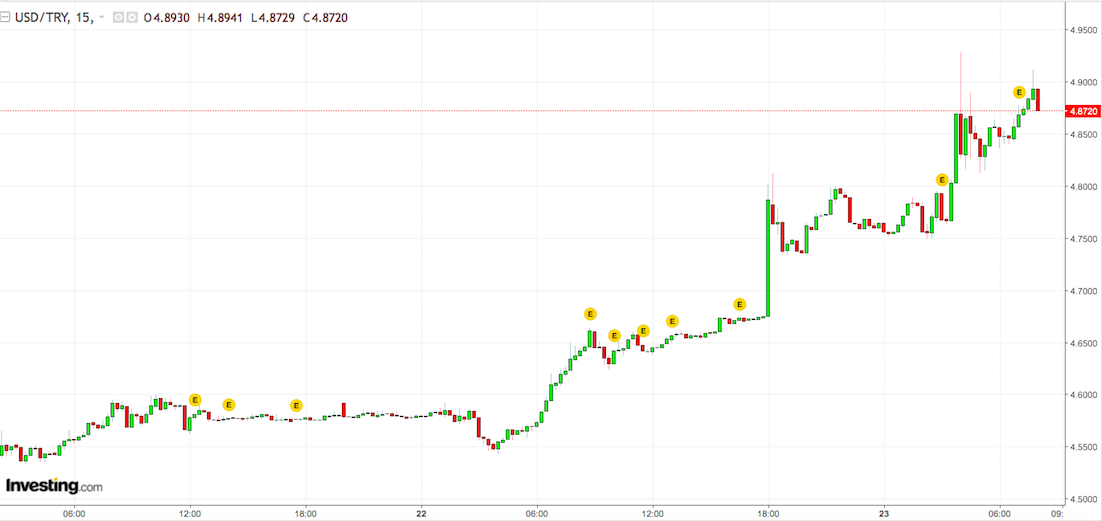 The Lira is down another 4% today on news that Erdogan promises to lean the central bank and keep rates low.
Jason Tuvey, an economist with Capital Economics in London, says that if the central bank "continues to bow to pressure from Erdogan and refrains from raising interest rates, that would lead to an even sharper fall in the currency."

Deputy Prime Minister Bekir Bozdag on Wednesday cast the lira's drop as a foreign plot to harm Erdogan and affect the results of the polls.

"Those who believe that by manipulating the dollar they will lead to results that will harm the nation and their pockets and change the election result, are mistaken," the state-run Anadolu Agency quoted Bozdag as saying.
Couple that with Argentina's 40% interest rates, and one begins to see the possibility of a contagion striking at the heart of EM. Like all panics in the past, contagion is contingent upon fear, nothing more.
Here are some other bearish bullet points this morning.
Michael Cohen's partner has agreed to flip and cooperate.
TGT missed earnings.
Home refinances are at 18 year lows.
Russia's VTB Bank chief says he worries about World War 3.
Trump says N. Korean summit might be delayed.
The China trade war tensions continue.
Cryptos crash.
German bond yields crash, 6yr back into negative territory.
Swiss 9yr bond sinks into negative territory.
Italian, Portuguese and Spanish yields soar, diverge wildly from German.
Dow futures are -160.
If you enjoy the content at iBankCoin, please follow us on Twitter