I've never seen a company being targeted like this. Elon Musk must be on some sort of banker kill list. Maybe he fucked one of their girlfriends, or perhaps stole some engineers from someone important. Say what you want about Tesla, it's comical to see the media attempt to ruin them on a daily basis, showcasing each and every car accident, making it headline news, as if a fucking plane just crashed into the Empire State building.
Sure, Tesla needs cash — but has any of these losers bothered to look at the fucking share price?
This is a $50b company. They can raise $10b today in a secondary if they absolutely wanted to.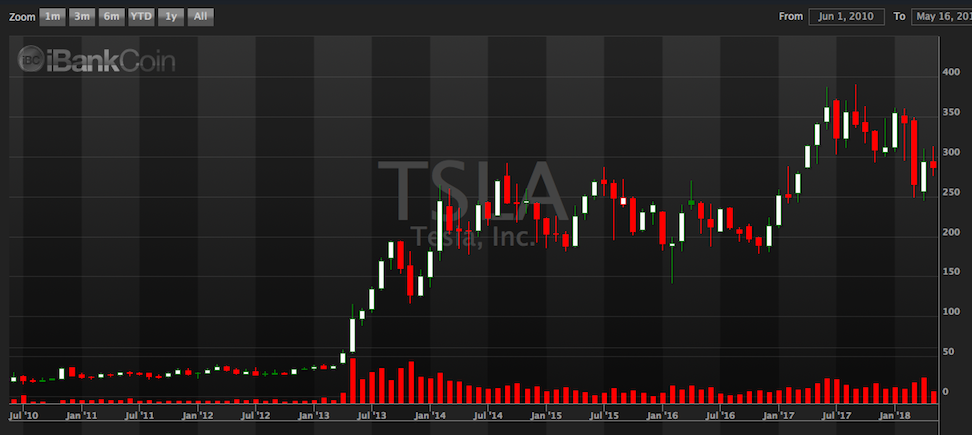 Here's Goldman, fear mongering by pretending Tesla doesn't have the immediate means to raise capital — tossing out a $10b number as if this were some sort of sub prime lending capital call.
Source: CNBC
"We believe this level of capital transactions may be funded through multiple avenues, including new bond issuance, convertible notes, and equity," analyst David Tamberrino wrote in a note to clients Thursday. "We see several options available to the company to refinance maturing debt and raise incremental funds, which should allow Tesla to fund its growth targets."

While Tamberrino was confident chief executive Elon Musk won't have trouble acquiring the extra cash, the infusion will likely present its own costs. Issuing additional debt could weigh on the company's credit profile, while supplying more stock or convertible bonds would dilute current shareholders.

Despite the forecast for additional capital requirements and a sell rating from Goldman, Musk insisted he has no intention of raising new money as recently as May 2.

Asked earlier this month if he's mulling a capital raise, Musk simply said "no."

"I specifically don't want to," he said on a conference call after Tesla posted first-quarter earnings that beat expectations.

Tesla finished the quarter with roughly $2.7 billion in the bank, down from a balance of $3.4 billion at the end of 2017. The persistent cash burn has kept analysts like Tamberrino unconvinced that the Palo Alto, California-based company can keep going at this pace without a larger financial cushion while short sellers keep the heat on the company' equity.

Tamberrino believes the stock price will fall to $195 over the next six months, a 31 percent decline.
Great, more nothing. I can't wait to see TSLA shorts roasted on a spit.
If you enjoy the content at iBankCoin, please follow us on Twitter