You've been told that the west enjoys freedom. But what if I told you we've never had less freedom — in the history of man. Would you believe me? The information is right in front of your faces. We're all just one small infraction away from prison. Your data is being parsed like never before and you're targeted for crimes that are patently ridiculous.
Look at this 'crime' that was committed in the UK — which earned an old man 8 months in prison. He stuck his middle finger up at a camera.
Top tip: If you want to stay out of trouble, don't do what this driver did and swear at our mobile safety cameras while driving past in a car fitted with a laser jammer. Today he's beginning 8 months in jail for perverting the course of justice. https://t.co/Y5jpeOlt96 pic.twitter.com/rKQRVgNkB1

— North Yorkshire Police (@NYorksPolice) April 23, 2018
The North Yorkshire police department are so accustomed to tyranny they boasted about this on their Twitter account — warning others to avoid said crime.
Police were unable to ascertain his speed but charged him with perverting the course of justice, which he pleaded guilty to at court.

The judge who jailed Hill said such actions "strike at the heart" of the justice system and his sentence must act as a deterrent to others.

Traffic Constable Andrew Forth, who led the investigation for North Yorkshire Police, said afterward: "If you want to attract our attention, repeatedly gesturing at police camera vans with your middle finger while you're driving a distinctive car fitted with a laser jammer is an excellent way to do it.

"It's also an excellent way to end up in prison. As Hill's case shows, perverting the course of justice is a very serious charge which carries a custodial sentence.

"It's our job to keep road users safe across all 6,000 miles of North Yorkshire's roads. Mobile safety camera vans are an important tool to do that – they are proven to reduce collisions and they help save lives.
How dare he!
And here's the video of him in action… pic.twitter.com/8SuvQGbAqb

— North Yorkshire Police (@NYorksPolice) April 23, 2018
They're watching your browser history, your GPS location, listening to your phone conversations, picking up on keywords, investigating your banking transactions, making sure you're behaving online: humans have never been less free — ever.
In other news, it may be time to discard your common stock portfolios for cryptos again. The sector is red hot and I'm firing up my Binance account again — hoping to get in on the next wave.
Total market cap is now $412m, still -50% from the highs.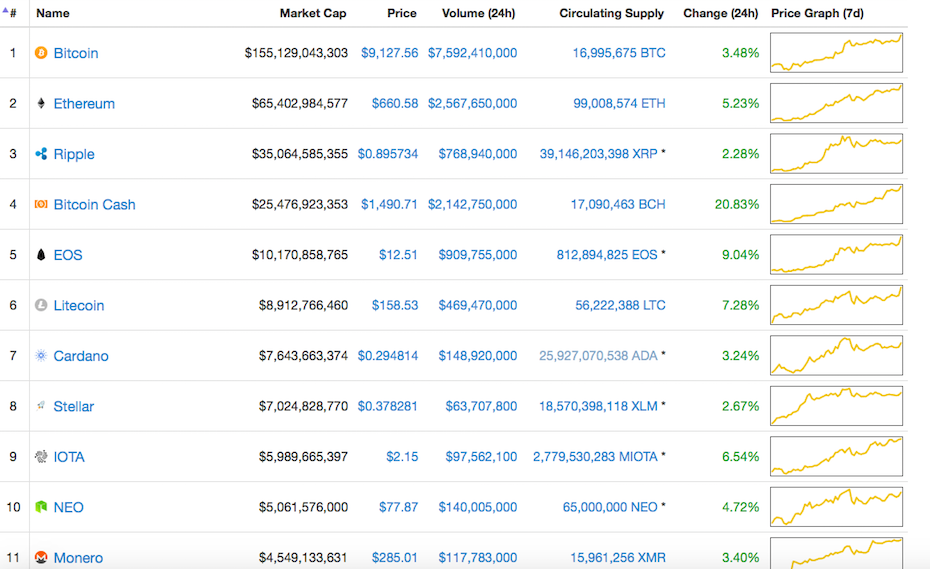 If you enjoy the content at iBankCoin, please follow us on Twitter