Hahahaha, Trump is a Russian agent.
This in from The Hill.
President Trump reportedly put a stop to plans to impose additional sanctions on Russia for its alleged role in a recent suspected chemical weapons attack in Syria because he was not yet comfortable with putting the penalties in place.

The Washington Post reported that Trump spoke with his national security advisers on Sunday after U.S. Ambassador to the United Nations Nikki Haley said on CBS's "Face the Nation" that additional sanctions were forthcoming.

While additional economic sanctions were under consideration, the president had not given the approval to put them in place, the newspaper reported. Instead, the White House is in a "holding pattern," and Trump will likely levy further sanctions only if Russia is involved in another event that threatens U.S. interests.

The White House on Monday morning walked back Haley's comments, saying the administration is "considering additional sanctions on Russia and a decision will be made in the near future."

On "Face the Nation," Haley said Treasury Secretary Steven Mnuchin would announce additional economic sanctions on Russia on Monday. She said the sanctions would target "any sort of companies related to [Syrian President Bashar] Assad and chemical weapons use."
This is a major beat down in the face of Nikki Haley, who just brazenly and boldly said new sanctions would be affixed to the mongrel nation of Russia. As a result, my RUSS is getting bullet holed to the face and Russian stocks are gapping higher.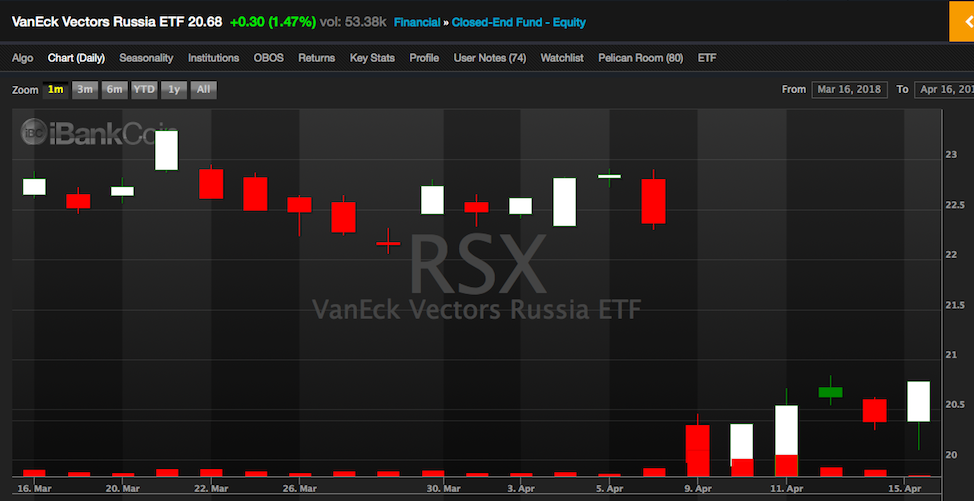 In other news, Gen. Jack Keane, member of the GD board, said the Syrian strikes were weak and we should not be deterred by a 2nd rate power, called Russia, meddling in our affairs. He thinks we should completely wipe out Assad's military capability and even strike Russian positions. LOL.
If you enjoy the content at iBankCoin, please follow us on Twitter