You wanted happenings — you got it. So much information, I have little room for prose here.
First and foremost — today is Bolton's first day on the job at the White House and they're already holding emergency meetings about how to strike Syria. It doesn't matter what you think — they're going to start a war in Syria and risk a war with Russia.
SYRIA MEETING: White House's National Security Council principals committee meets at 10a today for emergency session on Syria, I'm told.

Trump not scheduled to be there, but his top nat sec aides will be, including John Bolton, who already met with his team on Syria this a.m.

— Jennifer Jacobs (@JenniferJJacobs) April 9, 2018
Fresh US sanctions are crushing the shares of Russia's largest aluminum makers, #2 in the world, Rusal. Shares were halved in Hong Kong trading, now down more than 20% on the MOEX.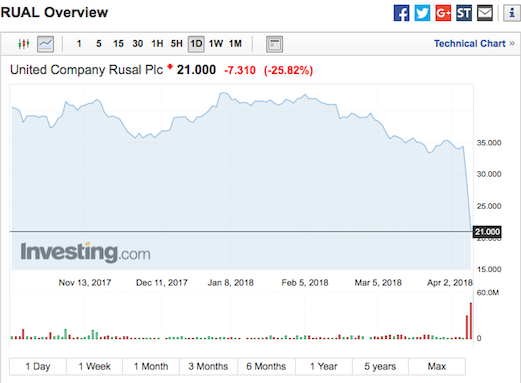 International commodity houses have been ordered to stop trading with Rusal.
EXCLUSIVE: Commodities Trading Houses Said to Stop Buying Aluminum From Rusal After U.S. Sanctions — with @jfarchy #commodities #Russia https://t.co/JvKhWVa2Tv pic.twitter.com/6TWOBPL451

— Javier Blas (@JavierBlas2) April 9, 2018
As a result, Rusal was forced to make the unusual request to their customers: stop sending us money.
The aluminum producer is investigating the consequences of the sanctions and doesn't waive its right to the payments, according to a copy of a letter dated April 6 and signed by Rusal's Head of Marketing Steve Hodgson. His division handles international sales, which account for about 80 percent of the company's business.

"We request that you immediately withhold all payments and remittances to UC Rusal until further notice," the company said in the letter. "We are working intensively to ensure continuity of our business."

Rusal was among Russian companies included in a list that the U.S. hit with sanctions on Friday that were intended to punish the country for actions in Crimea, Ukraine and Syria, and attempting to subvert Western democracies.

U.S. operations of sanctioned companies are now frozen and Americans mostly barred from dealing with them, while others outside the U.S. will be punished for carrying out significant transactions with the businesses.
This is having a positive effect on non-Russian aluminum makers, namely CENX, AA, AP, and ACH.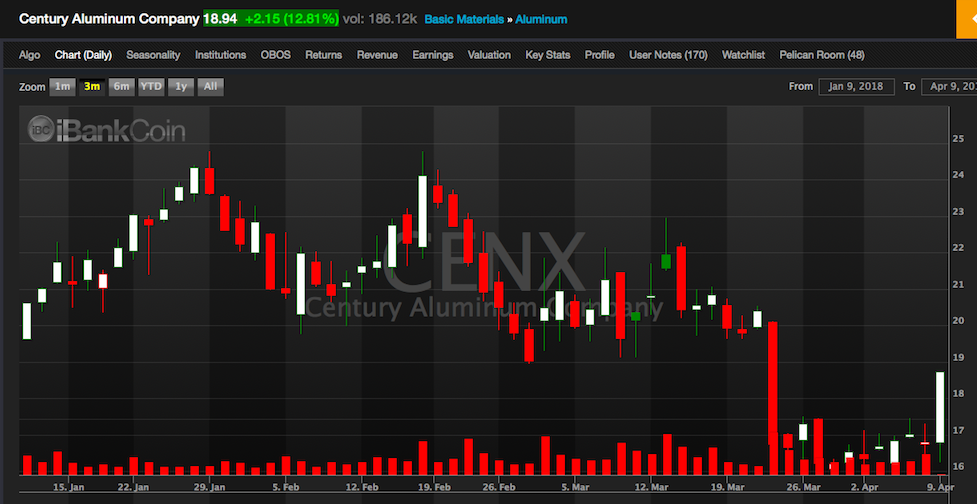 Spot aluminum is getting a much needed bounce on the news.
Russian markets are careening lower.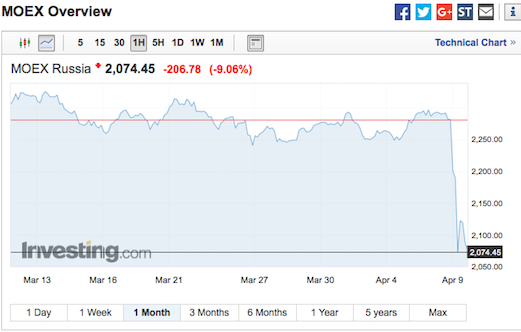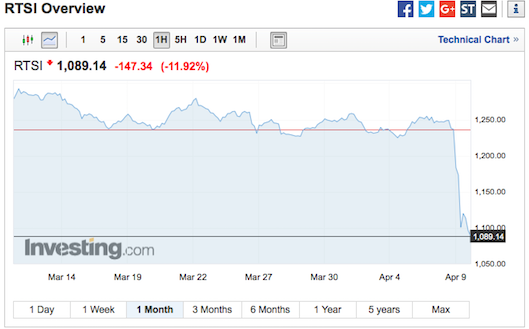 The Ruble, hammered.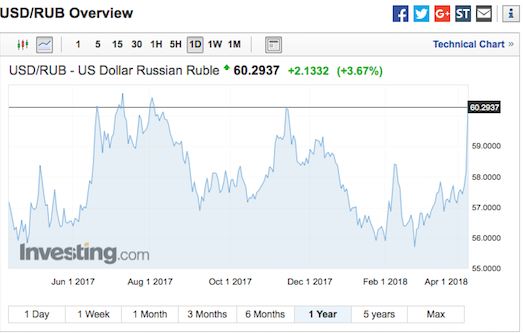 Russian oligarchs that were targeted by US sanctions are losing a great sum of money today.
Russian shares linked to oligarchs tanking:

Rusal down 50% in Hong Kong
EN+ down 30% in London (trading suspended now)
Rosneft down 7% in Moscow
Norilsk Nickel down 14% in Moscow
Evraz down 15% in London
Polymetal down 10% in London#Russia #oil #commodities #tictocnews

— Javier Blas (@JavierBlas2) April 9, 2018
Russian corporate and sovereign credits are getting hit too.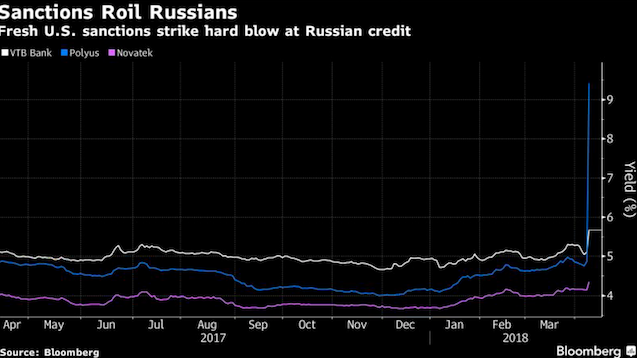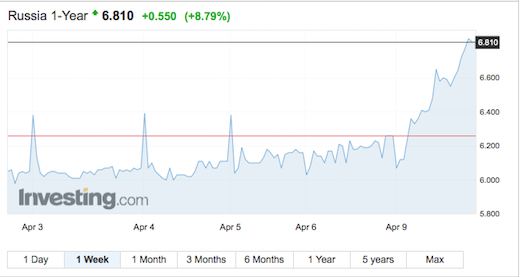 US markets, however, are enjoying the pangs of misery endured in Moscow. The Dow is higher by 180, Nasdaq +85. WTI is higher by 1.9% and the dollar is +0.37%.
If you enjoy the content at iBankCoin, please follow us on Twitter