Here we go again. This is the dumbest fucking reason to sell a stock — it's too god damned powerful. Over the weekend, thanks to a whistleblower, Guardian broke a story about social media gurus at a firm named Cambridge Analytica. Apparently, this piece of shit company, thanks to some help by the Mercer family, helped elect Donald Trump and cause BREXIT. They did nothing illegal, per se, other than use the data provided by Facebook to target ads. In other words, they were marketing news for political purposes and because Trump won — they are now evil.
It's the biggest crock of shit story I've ever read — but my opinion is in the minority here, as Facebook's stock is cascading lower on heavy volume — all due to it being viewed as a threat to establishment shills.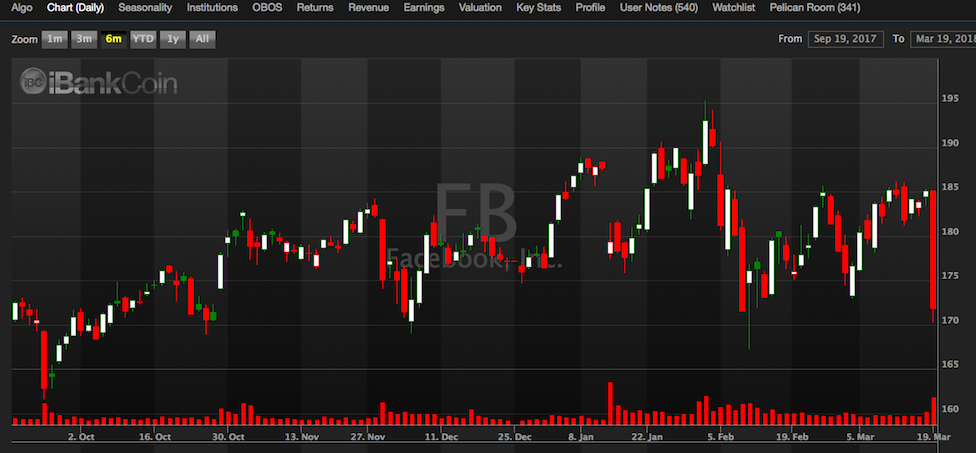 CNBC
Facebook said that all the parties that had received the data said it had been destroyed, although the company said it had received reports that not all the data was actually deleted.

"We are moving aggressively to determine the accuracy of these claims. If true, this is another unacceptable violation of trust and the commitments they made," Paul Grewal, deputy general counsel at Facebook, said in a blog post Saturday.
Roger McNamee
"There's been an increasing understanding that when you're using Facebook, a lot of bad things are going to happen to you, as a user," McNamee said. "That is not a 100 percent guarantee, but the risk is really, really high."

It's not the first time Facebook has battled issues of user trust. The company has been facing increasing pressure from tech insiders and lawmakers to give greater transparency into its data and advertising businesses — particularly following the discovery of Russian meddling on the platform during the 2016 presidential election.

But it is one of the first instances of consumer sentiment so significantly hurting the stock. The stock's weekend plunge is the company's biggest single-day drop since September 2012.

"In my mind, trust is the thing that makes these [internet platforms] successful," McNamee said. "I am an investor. I want them to have the trust of the users."
Jim Cramer
Cramer said on "Squawk on the Street" that the negative Facebook headlines make investors "sick" of the stock, adding there's some sentiment on Wall Street that Facebook is "the worst of the FAANG's." (FANG is an acronym originally coined by Cramer for Facebook, Amazon, Netflix, and Google-parent Alphabet. Apple was later added to make it, FAANG.)

"I think the trust feels like a lot of other people, which is: 'You know what, if I'm going to pay say 23 times this year's earnings or 19 times next year's, I don't want to get up in the morning'" and see a bad headline every day, Cramer said.

Cramer added the continued bad headlines make the U.S. tech company seem "naive." But asked whether he's surprised by the big move down in Facebook shares, Cramer said, "Yes I am at this point."

"Why isn't Facebook more aware of the power it has?" asked Cramer, host of CNBC's "Mad Money." "They don't make you love them."

He added, at the moment, it's hard to find stocks that aren't "controversial."

"I am stuck with the idea that this company had revenue growth of 47 percent [in the latest quarter], earnings per share growth of 57 percent. This stock is selling at 19 times earnings," Cramer said, which under normal circumstances would make it attractive.
Look at these melting snowflakes bitching about Facebook's absolute power, something that has main stream knowledge for over a fucking decade. Give me a break.
If you enjoy the content at iBankCoin, please follow us on Twitter