Everything you knew about Bitcoin, throw it out the window.
ATTENTION BITCOINERS: It's OVA pic.twitter.com/lBB54TeFBS

— The_Real_Fly (@The_Real_Fly) March 15, 2018
Here's the Bitconnect guy — clearly mentally damaged from his ordeal in BCC.
My Thoughts On What Bitconnect Did To Us 05/03/2018 pic.twitter.com/j216DLFLPE

— Carlos Matos (@CarlosMatos80) March 6, 2018
The sector is now vulnerable to negative news flow. This is prime time for further SEC/government meddling — rape people while their pants are down.
I just got back from giving a lecture at Princeton, teaching young students how to buy Ripple. Here's my deck. $XRP pic.twitter.com/LONQIpMcYd

— The_Real_Fly (@The_Real_Fly) March 15, 2018
Total market cap now just $325b, down nearly $500 billion from the top or 62%.
DOWN $500 BILLION FROM THE TOP.
Here's the top cryptos by market cap, currently entering a post apocalyptic landscape, one bereft of civil life.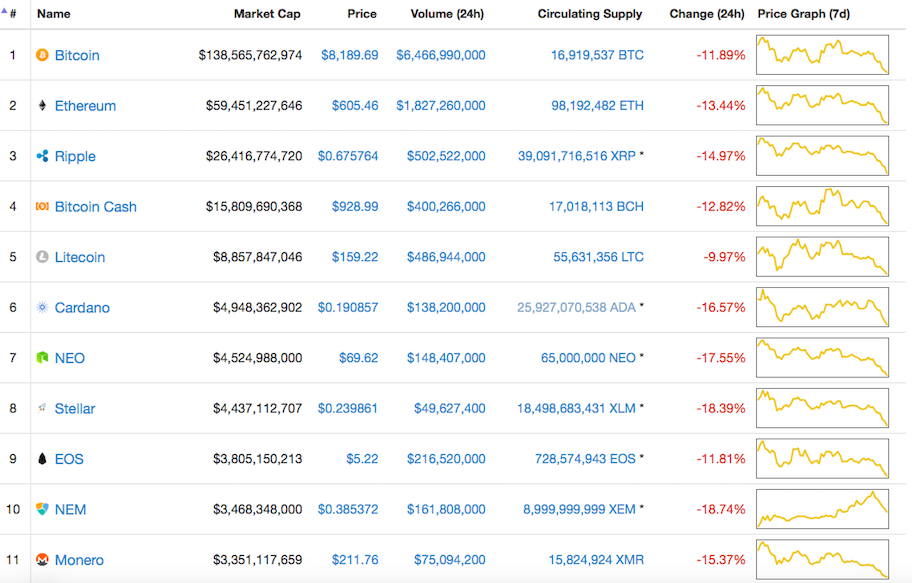 The HODLers have been dispatched, avocados stolen and eaten by orcs. All that is left now are money launderers who bake in the losses are a transaction cost. The best way to deal with this type of deep sell off is to avoid thinking this is the bottom. Assume prices will drop by another 50%, bake in a worst case scenario, and buy your favorite SHITCOINS using a dollar cost averaging stratagem.
Bubbles are fun until they pop. After they pop and the losses are tallied, sans dead cat bounces, it takes a very long time to recover those highs. Go check out the Nasdaq bubble of 2000 for reference.
If you enjoy the content at iBankCoin, please follow us on Twitter