Lots of moving parts here. For one, Rex the Cro-Magnon is likely heading back to the oil barrel to live out the rest of his days lathered in a tar-like substance. Secondly, Trump has appointed the Director of the CIA, Mike Pompeo as the new Secretary of State. Frankly, placing a fucking spook in charge of the State Department is a little much — but then again, Trump is extra.
TILLERSON AIDE SAYS TRUMP NEVER TOLD TILLERSON WHY FIRED: AP

— zerohedge (@zerohedge) March 13, 2018
TILLERSON TOTALLY BLINDSIDED BY FIRING, STATE DEPT. SAYS

— zerohedge (@zerohedge) March 13, 2018
TRUMP SAYS HE, TILLERSON DISAGREED ON IRAN: BBG

— zerohedge (@zerohedge) March 13, 2018
Lastly, he's appointed the first woman as top spook at the CIA, Gina Haspel. Previously, Ms. Haspel was Deputy Director and before that she ran a fucking black site in Thailand that specialized in waterboarding and other unsavory interrogation tactics. When she captured Al-Qaeda big chief Zubaydah — he was summarily waterboarded 83 times in a month, then sleep deprived in a large box and had his head smashed against the wall until he lost his left eye. He yielded hardly any useful intelligence while in custody.
Ms. Haspel is the recipient of the George H. W. Bush Award for excellence in counterterrorism.
Mike Pompeo, Director of the CIA, will become our new Secretary of State. He will do a fantastic job! Thank you to Rex Tillerson for his service! Gina Haspel will become the new Director of the CIA, and the first woman so chosen. Congratulations to all!

— Donald J. Trump (@realDonaldTrump) March 13, 2018
Casualties of the Trump administration. Add the knuckle dragging ape to the list.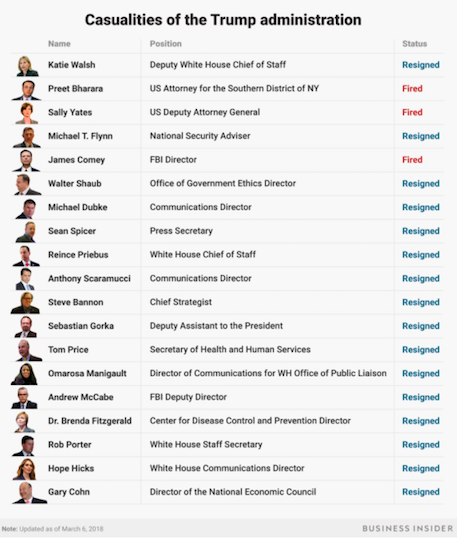 A little background on Pompeo.
Mike Pompeo has called for the Iran nuclear agreement to be ripped up, played down talk of Russia's interference in the election and suggested that regime change in North Korea would be a welcome development (from November) https://t.co/CG6soWJhsD

— The New York Times (@nytimes) March 13, 2018
If you enjoy the content at iBankCoin, please follow us on Twitter