One of my favorite pastimes is to read old newspapers. I have a collection of them, dating back to the 18th century. But you can also accomplish this by searching the Google News archives or via a subscription to the very evil failing NY Times.
One hundred years ago to the day, the NY Times was discussing a sundry of issues — all Great War related topics; Germans being Germans, Russians being Russians. One thing caught my eye — this advertisement.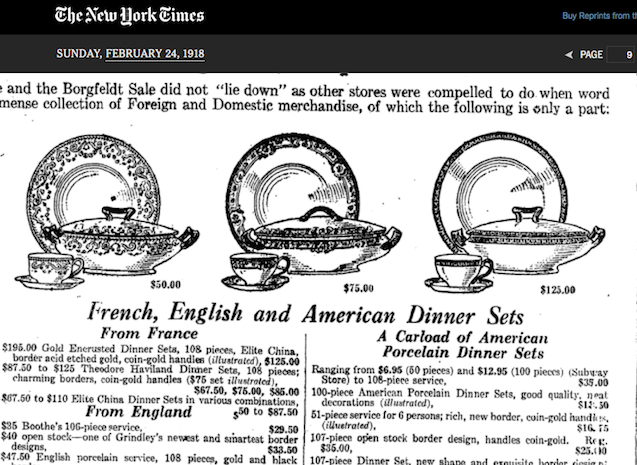 That looked like a damned good deal, no? A 100+ piece set of china for 85 bucks. Now imagine if you "wasted" your money on a nice 100 piece Haviland set back then and passed it onto your stupid grandkids. What would it be worth today?

Roughly $2,399. That's a nice rate of return of 2,722% or 27.22% annually over 100 years. Granted, 2,722% can be had in a few idle months investing in SHITCOINS; nevertheless, it's a proper rate of return — is it not?
At that time, the Dow Jones was roughly the same price as a fine set of Haviland china: $76. That investment is a little sketch, since you'd be cursed by varying changes in the Dow and would've been wiped out during the Great Depression. Betting on America in 1918 was, essentially, equivalent on a long bet on the success of the country — something of massive unknown qualities, especially in the midst of a giant war. Had you played the momo trade, when America was clearly great and dominant, you would've bought in at the top of the market in 1929, at $300, and would've been fucked and underwater until 1954. During that same time, you could've hosted plenty of dinner parties on your fine Haviland china and possibly convert those occasions into tangible money making opportunities (e.g., impressing a boss or maybe even a lady friend).
Plus anyway, the Dow's gains aren't too impressive if you look at them over time. Hell, it just broke $1,000 during the 1980s and the fucker got down to $6,500 during the 2009 financial crisis. Meanwhile, that Haviland china set remained comfortably intact, the star of your dinner parties, immune to the fuckery of financial markets.
The point is this: instead of buying a lot of shitty things, buy a few really good things. For example, you can buy 10 shitty suits for the price of one good one. You can buy paper plates for the rest of your lives and literally throw away your investment, or buy a fine set of Haviland and see it rise to $25,000 over the next century.
STOP BUYING SHIT.
UPDATE: The compounded rate of return was 3.51%. I was off by a smidge — a rounding error.
If you enjoy the content at iBankCoin, please follow us on Twitter