Okay, what exactly happened here? I was out speed eating sandwiches and came back to a market in turmoil, up only 35, and the dollar fucking ripping against the euro, +0.40%. Moreover, the price of gold got Swiss cheesed up; naturally right after I stepped in and bought some JNUG. I should've read the prospectus — fucked again.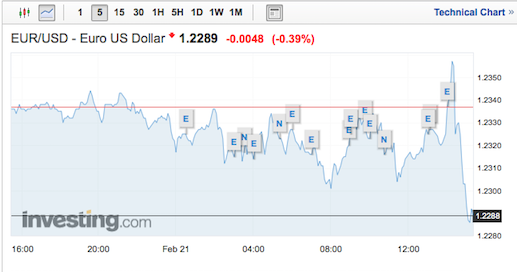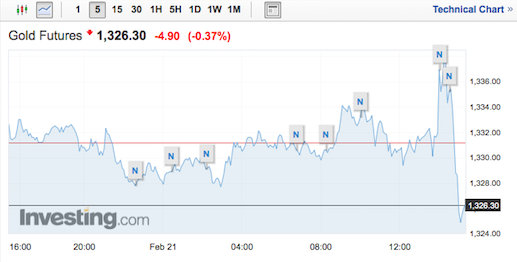 Federal Reserve officials see increased economic growth and an uptick in inflation as justification to continue to raise interest rates gradually, according to minutes from the central bank's latest meeting.

Though the policymaking Federal Open Market Committee chose not to hike its target rate at the Jan. 30-31 gathering, members indicated clearly that the path ahead for rates was higher.

Officials concluded that "upside risks" to economic growth had increased thanks to tax cuts, increased consumer spending and confidence and a general plethora of signs that growth was moving along at a sustained pace. Members said they have revised upward the economic projections they made at the previous meeting in December.

"A majority of participants noted that a stronger outlook for economic growth raised the likelihood that further gradual policy firming would be appropriate," the summary stated.

"Almost all participants" saw inflation moving up to the Fed's 2 percent inflation goal over the "medium term" as growth "remained above trend and the labor market stayed strong."
Either everyone trading stocks today has Downs syndrome and are unable to properly read a few poorly written paragraphs, or something is afoot here. What in the world did you think would happen? Did you, for some reason, believe the Fed would not hike rates in 2018 — just because a few morons forgot to read the XIV prospectus, causing the market to collapse a few weeks back?
NO!
Powell doesn't give a shit about XIV or anything else for that matter. He's a God damned lawyer — a heartless demon who is only interested in one thing: billable hours. Trust me when I tell you, even though he's on salary at the Fed, he's thinking billable hours and will always take the path of most resistance, whichever keeps him busiest to justify his existence. He'll do and say anything to hide the fact that he's a useless wastrel, filling a post that is literally redundant and ceremonial.
Will he cause a market crash?
Of course he will!
Any idea how many fucking billable hours are in a market crash? Lots. Jerome will be toiling away like Scrooge on Christmas Eve — figuring out ways to tie America into pretzels, the hard type too, just so he can exert leadership.
Yellen wasn't interested in any of that — mainly because at some point in her long life — she was a woman. Members of the fairer sex do not concern themselves with needless battles because they do not have a cock to measure; but Powell does.
That asshole is gonna measure his cock all over you people — making himself known and feared — no different from a rapist.
Welcome to the Powell Fed.
UPDATE: The last 10 minutes of trade were lovely. That's what I call 'flash boiling.'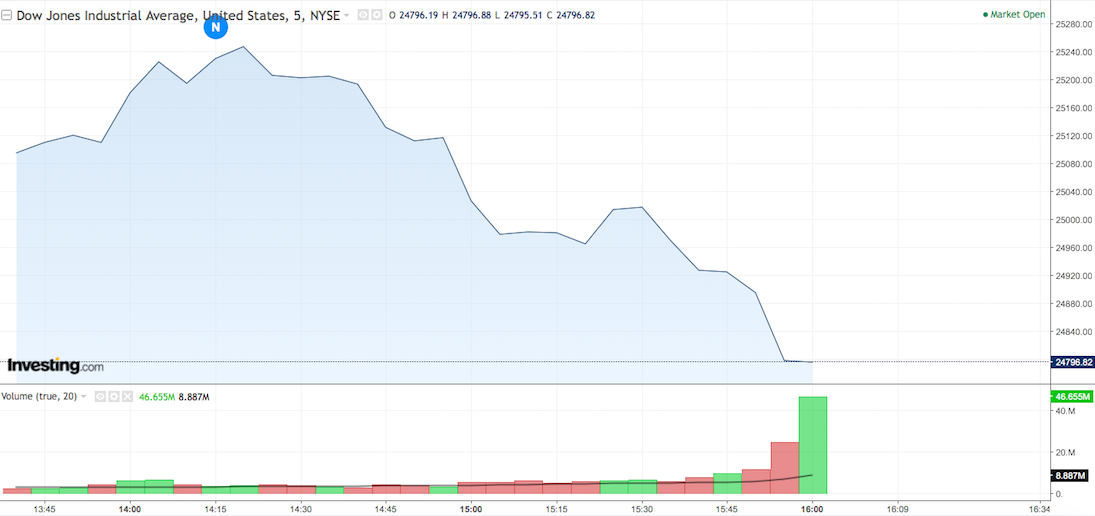 If you enjoy the content at iBankCoin, please follow us on Twitter