It seems there is a sickness in this country and it doesn't have anything to do with mental health. If you boil down everything to a singular common thread, amongst both the extreme right and left, it is hatred for country. This hatred makes them cynical of any news being reported on teevee. Think about how dreadful their lives must be, not being able to believe in anything.
A great man once said, "the mind that alters, alters all."
From my vantage point, this all started with 9/11. Mostly everyone I've talked to about 9/11 thinks the reported narrative was bullshit, from ordinary folks watching it on teevee to marines on the ground being told to evacuate just before building #7 came down. Because of the failures of the war and the bullshit that came with it, a fringe element has grown into a fucking monster in this country — laying the seeds of doubt in just about everything from Obama's birth certificate, the gender of his wife Michelle, to Sandy Hook shooting, Vegas, Osama Bin Laden's death, Andrew Breitbart's death, Seth Rich, The Hillary emails, The Russian Trump theories, and now this: The Parkland Shootings.
I must admit, I do entertain myself, on occasion, to read these nut job theories, but only for entertainment value. Even if they were true, what am I supposed to do with that information? Moreover, how is believing in that shit going to make my life better? Distrust in government is normal and I understand why people are curious, since just about everything out of the media and the government seems to have malicious intent. But spending an inordinate amount of time investigating these ideas, unpaid, is more than unhealthy — it is deranged.
Now there's a bunch of videos floating around calling the Parkland shooting staged, stocked with crisis actors whose only purpose is to help revoke the 2nd amendment.
An aide for Rep. Harrison out of Florida was fired today for floating the idea that David Hogg, an outspoken student at Parkland calling for gun control, was a crisis actor.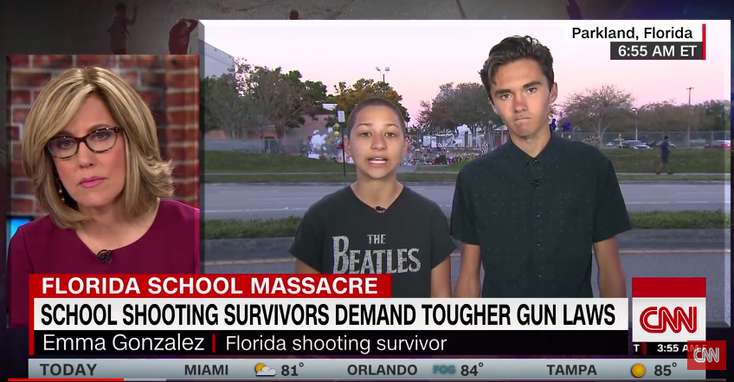 Via Tampa Bay Times:
"Both kids in the picture are not students here but actors that travel to various crisis when they happen." Asked for backup to that claim, Kelly sent another email with a link to a YouTube conspiracy video about one of the students.

"There is a clip on you tube that shows Mr. Hogg out in California. (I guess he transferred?)," Kelly's email read.
Hogg has come under fire by fringetards because he's been outspoken. Speaking from personal experience, having lost my Father due to gun violence, I can tell you the temptation to simply say "ban all guns" is very overwhelming, especially after a traumatic event. Give the kid some slack.
Here's some of the stuff being floated on Twitter.
This woman seems coached and also a bit deranged. Trump's should ignore these media-manufactured theatrics https://t.co/ewRNRqnlEi

— Dinesh D'Souza (@DineshDSouza) February 20, 2018
It looks fishy, could it be that he's really a crisis actor? Rumors are that he's the son of an FBI field agent, if this is the case they're playing with all of us. #Parkland pic.twitter.com/r5horPrZQT

— ??Jojoh888?? (@jojoh888) February 20, 2018
@TuckerCarlson During your great interview with Dan Bongino, there was a wide shot of the Parkland protesters. One young lady looks like she's been at more than one protest (Crisis Actor?) Added @POTUS @realDonaldTrump to stop Blocking. ?? pic.twitter.com/c9IZbw5dSt

— Starrider7 (@GeorgePeterBon2) February 21, 2018
DAVID HOGG CONFIRMED FBI CRISIS ACTOR – SEEN ON CBS LA BEFORE #Parkland pic.twitter.com/4i5s3qX7K6

— Clean Action (@antischool_ftw) February 20, 2018
So the rationale behind Hogg being a crisis actor is due to his CBS appearance in 2017 while living in LA. People do move, you know.
And here is a compilation of clips showing students say they were trained for such an event 6 weeks prior. And? My kids have fire drills all the time. If a fire should break out, does that mean the whole thing was staged?
Some people are just sad and aren't thinking this through all the way. When in doubt, be nice and show some decorum.
If you enjoy the content at iBankCoin, please follow us on Twitter