Shares of CS are down nearly 7% in after-hours thanks to the rickety bullshit unfolding in XIV, the inverse volatility ETN — which has been the single best performing ETN over the past 5 years. In what is truly hard to believe, there is a 'termination' trigger in this product that permits the underwriter, in this case Credit Suisse, to liquidate the fund in order to prevent a negative equity situation.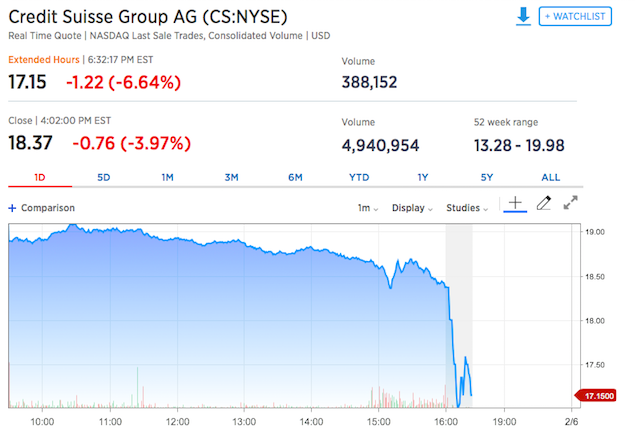 What their exposure is to this trade is unclear at this time. One trader has an idea what might be out there and it doesn't bode well for CS. In after-hours trade, inverse volatility ETNs SVXY and XIV are down by 78% and 85%, respectively.
Larry McDonald, founder of the Bear Traps Report, warned that such a huge spike in volatility could spell similarly large losses for investors in popular inverse volatility notes like Credit Suisse's XIV, which rises when the VIX falls.

"Positioning in all sorts of VIX ETFs has increased 5-fold in recent years," McDonald said in an email. "Even a spike in volatility similar to August 2015, would force VIX ETFs to buy an incredulous $37 billion exposure in short-term VIX futures. Such a spike can even get more exacerbated in case liquidity dries up as the market realizes certain structures need to rush in and cover their shorts at whatever the cost."

McDonald told CNBC that the August 2015 VIX move was roughly 45 percent, while today's move was double that.
Can't wait for the death of the short volatility trade which has been pumping this market for sooooo long! $UVXY $XIV $VIX $VXX pic.twitter.com/aXv0TqbDhb

— Sp3cul8r (@sp3cul8r) January 30, 2018
Here's a CNBCtard attempting to explain the math here, but leaves out the black swan 'termination' even that is apparently happening.
I know a lot of people have been hit with this trade. Friends of mine have been emailing me some truly harrowing details about how they took million dollar positions before the bell today. Hopefully, you're exposure is limited; but judging from experience, I imagine some of you have high exposure to this product. There's no negotiating with events like this, which is commiserate to Bear Stearns opening up at $2 from Friday's close at $30. We never had a chance with this thing, closing at $99 — only to trade down sneakily in the after-hours. Like thieves in the night, the people who concocted this product fucked up in a significant manner.
I'll hold the damned thing and take the loss when the smoke clears. I am writing this off as a total loss, a sharp set back for me — but life has to continue and I will view this set back as another foray into hardship that has served me well in the past.
I am truly sorry to anyone who bought into this God forsaken curse.
If you enjoy the content at iBankCoin, please follow us on Twitter