I must admit, I did not think the Fed would be able to get away with hiking rates without there being adverse consequences. Let's all acknowledge some plain facts. The Fed did in 2017 what many believed to be impossible. They got rates off the ground of zero to 1.25-1.5% without a ripple in stocks. In the past, the idea of even thinking about hiking rates would cause a market hysteria. Do you remember those days?
Now the Fed is in a position to both unwind their balance sheet and hike rates, all the while the economy is chugging along at a 3% rate.
Dare I say, best case scenario is at hand?
From their statement today.
"This change highlights that the committee expects the labor market to remain strong, with sustained job creation, ample opportunities for workers and rising wages," Chair Janet Yellen told reporters Wednesday in Washington following the decision. In her final scheduled press conference before before stepping down on Feb. 3, Yellen also said she would do her utmost to ensure a smooth transition to her nominated successor, Jerome Powell.
And their dot plot.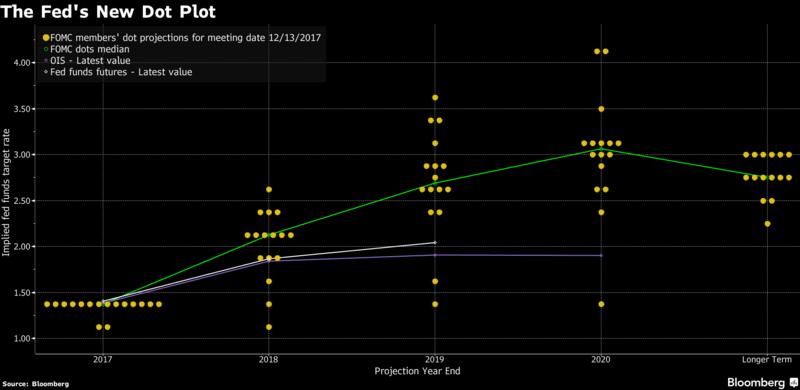 Forget about Obama and Trump. Global markets have been guided by the steady hand of Fed Chairs Bernanke and Yellen since 2008 and I think it's only fair and right that someone gave them their due.
If you enjoy the content at iBankCoin, please follow us on Twitter