There's an idle decadence in the air, a shared feeling of invincibility that is always born in the very best of markets. Believe it or not, I was once a young man, filled with promise, fastidiously racing up and down Wall Street in search for extreme fortune. I had made a small score in late 1998 and was interested in another. The year being 2000 and all, markets at new highs, the internet renewed the spirits of those looking to invest in innovative fields; there was very little in the way of us youngsters making our mark — to be loved and cherished by our well-to-do northeast clients who hailed from families rich with tradition and power.
My partner and I had done decent enough business to deserve an office, but not one with a window. Those were reserved for the other brokers, the one's who were producing large sums of monthly commissions for a long time. We had only recently been big producers and my age was hardly something that was viewed as an asset back then — merely 23, wet behind the years, and I looked 18.
We had a small staff of cold callers, account openers, and even a secretary. I felt as if I could do nothing wrong, since I was a genius — a providential beneficiary of a roaring bull market — one that had seen the NASDAQ climb by 85% the year prior. All of my picks outshone the others. My hand for picking the very best stocks become known around the firm — which caused a small crowd of brokers to constantly populate outside our office to find out what we were buying next. Most of the other men were too interested in spending their money, rather than learning how to make it. Even the lowest producers were making $200,000 a year back then. Money was easy, spending it was easier, and making it was the easiest.
Until it ended on March 7th, 2000. Both the Dow and the Nasdaq tumbled hard. We were heavily leveraged, so we were scared, almost instantly. Accounts that were once up 100% for the year were teetering on break even. The selling didn't let up and the margin calls started to become a regular chore. Clients would soon be popping into our office before 8am, deeply concerned about their accounts — begging to hear about our plan to get it all back.
In one particular case, the account had gone deep into negative equity. My partner had miraculously convinced him to send in $50k to get back to zero. This helped us avoid eating that loss, something that was happening with regularity by May of 2000.
The idea pitched to us, over and over again, by management and experts on the teevee, was that the downturn was temporary and that things would come back to the way they once were — only better. For if you were able to raise money to buy the blood that was flowing freely through the streets,  it was entirely possible that you'd make such a mark that your firm would let you choose whichever office you wanted, one even with a window.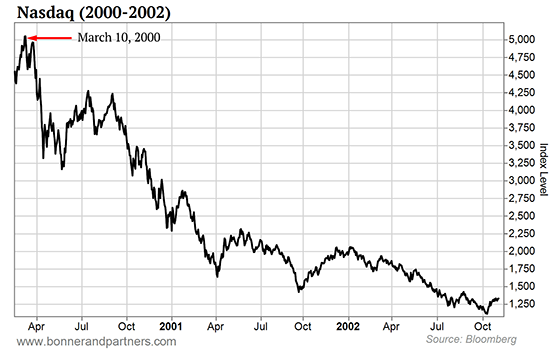 Things never were the same after that. Markets didn't really come back with vigor until early 2003, which lasted, tenuously, until it broke apart and shattered again in 2008. Like a dream, when it ends, it cannot be continued. The faineantise illusions we had painted for ourselves were cast in water colors, easily wiped away and erased with inclement conditions that older men, who had been though previous market squalls, understood and prepared for.
When this market cracks apart, and the seams from which it was built upon come undone, how will you respond? Will you, for example, chalk it up to another buying opp, loudly declaring to "buy the dip" — for the 3:30 algo Gods will surely save you? Or, perhaps take a different tact and prepare for something worse?
Ostensibly, one thing is evergreen in this regard, hindsight is the only unspoiled and unbiased truth laid bare, most often obvious to those who were too busy keeping their heads up their backside cavities while matters took a turn for the dreadful.
If you enjoy the content at iBankCoin, please follow us on Twitter