If you research Tungsten mines, you'll find that they're often overseas — in fucked up places in the world like Africa, China or S.America. Primarily used to Harden steel, used for ballistic missiles and drill bits, Tungsten is all the rage these days — especially with the specter of war casting its ominous shadow.
The real driver for tungsten is China today is fear of Chinese cutbacks. Approximately 80% of world wide tungsten supply comes from China. Like rare earth minerals, they literally control the market.
Source: Bloomberg
"The Chinese have been trying to impose control over the production in tungsten," said Mark Seddon, senior manager at Argus Consulting (Metals). "They've used environmental policy to clamp down on non-quota production."

The price of tungsten in Europe has jumped 52 percent since early July, according to Metal Bulletin Ltd. The advance has beaten all 22 major materials in the Bloomberg Commodities Index. Tungsten has gained for six straight months, the longest rally since 2012.

The European Union classes tungsten as a "critical" commodity and the British Geological Survey places it at the top of its supply-risk list of materials needed to maintain the U.K.'s economy and lifestyle. In 2012, it became a flash point when then U.S. President Barack Obama filed a complaint to the World Trade Organization against Chinese supply curbs.

China limits supply to about 91,300 metric tons a year, but routinely breaks its quota by as much as 50 percent, partly because a lot comes as a byproduct from mines that produce other metals such as molybdenum, Seddon said.

It seems that tolerance has gone, at least for now. China's Ministry of Industry and Information Technology issued an edict on June 6 saying producers should stick to output quotas and that those without quotas, or which exceed the quotas, should halt production. Quotas also shouldn't be granted to firms that infringe safety or environmental rules.

"The government wants to have control," said Seddon, who has covered the industry for at least 15 years. "Whether this carries on into next year is more difficult to predict."
Look at the subsequent appreciation.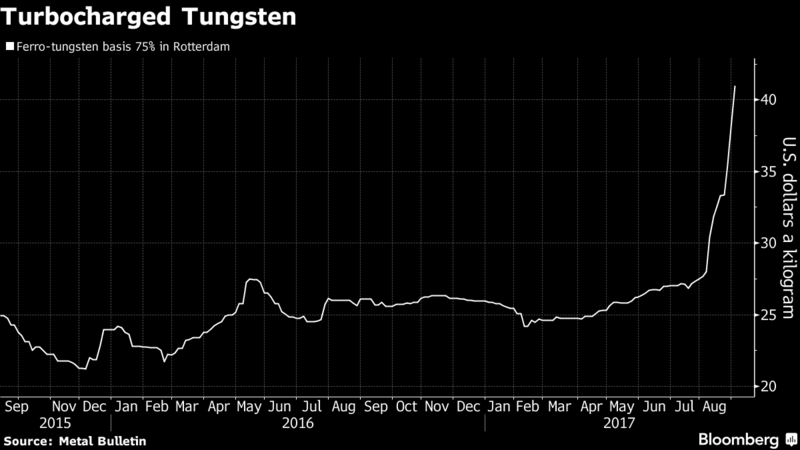 Aside from the all important missile industry, the auto industry males up 25% of demand — mainly for cutting and machining tools. All of the publicly traded plays are abroad, with exception to one: KMT.
A few years back, they purchased a Tungsten mine in Bolivia, the first largest producer of tungsten. Not knowing much about the company yet, I do see their revenues and earnings have taken a recent uptick for the first time in years. Their share price is has risen by 17% this year and on a scale of 1-5, with 5 being the best, Exodus ranks it a 4.75.
I'll do a little more research on this over the next few days. If any of you have any insight into this industry, feel free to share. Or do all of you simply genuflect to the retarded and illiterate church of technical analysis? It must be nice being you, living life without every having to think — simply reacting to things like a fucking savage animal.
If you enjoy the content at iBankCoin, please follow us on Twitter