KLIC makes gold wire bonding for semiconductors and is considered to be a forward looking indicator for the entire sector. I don't have time to dig through old articles now, but trust me when I tell you this isn't the first time a KLIC shortfall brought down the entire semiconductor space. I recalls several years ago, maybe 2010 or 2011, a warning out of KLIC caused a full fucking chimp out in the tech sector.
More or less, we're getting some weakness today thanks to both KLIC and MTSI earnings disappointments.
KLIC
Reports Q3 (Jun) earnings of $0.62 per share, excluding non-recurring items, $0.06 worse than the Capital IQ Consensus of $0.68; revenues rose 12.7% year/year to $243.9 mln vs the $245.02 mln Capital IQ Consensus.
Gross margin of 45.8%.

Co issues upside guidance for Q4, sees Q4 revs of $200-215 mln vs. $193.60 mln Capital IQ Consensus Estimate.
"We continue to benefit from the strong industry environment, improved market dynamics and new opportunities in our core business and expanding portfolio. In parallel, we remain focused on further enhancing exposure and alignment to several other meaningful near and long-term opportunities."
MTSI
M/A-COM Tech: Stifel sees downside reaction as overdone; tgt cut to $57 from $64 (61.06)
Stifel notes that MTSI is indicated down over 20% and they believe the reaction is overdone. Firm says while MACOM continues to cite many opportunities that support its long-term target model, the near-term continues to be impacted by weakness out of China, which is causing significant headwinds to its PON, long-haul/metro and backhaul/OTN businesses. Despite this persistent cyclical weakness, the firm is however encouraged by the strength outside of China, especially in Japan and No. America and in particular its Data Center business, which continues to exceed expectations and is poised for further growth. They also highlight several other strategic and secular growth opportunities still yet to ramp meaningfully (GaN, 100G, Active Antenna and DC), which helps support its ability to achieve its target model of ~20% growth in FY18, with improving GMs and overall profitability. Firm cuts their tgt to $57 from $64.
I am heading out now. But what you want to pay attention to next is the application software sector. It is weak today and not looking sporty. Should that sector fail, the entire market will follow suit — just like in early 2014.
Here's a look at the semis.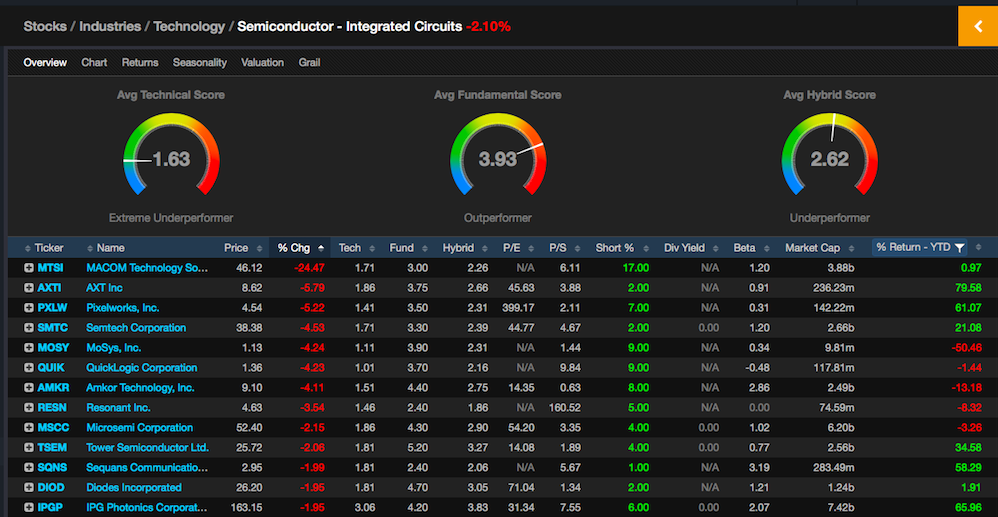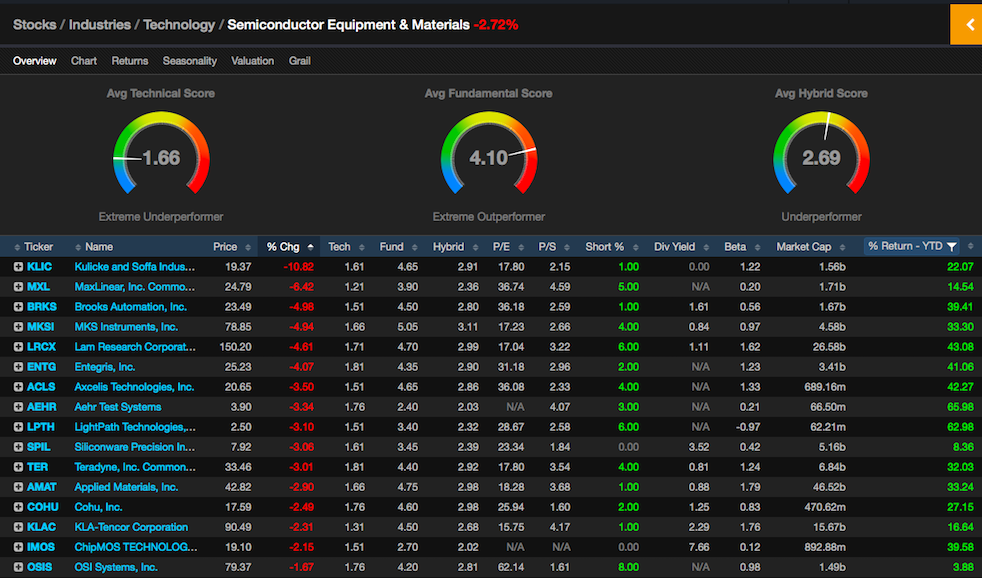 Regarding the application software sector, keep a close eye on CRM, WDAY, SHOP, VEEV and DATA.
UPDATE: I found a note I left in Exodus, dated 10/7/10. You can go see for yourselves what that warning did to the semis that day.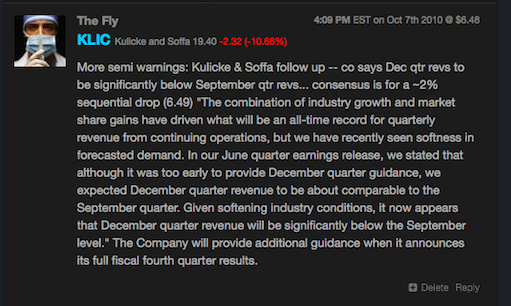 If you enjoy the content at iBankCoin, please follow us on Twitter