Copper is higher by more than 3%, and oil +2%. Earlier this morning, both FCX and CAT crushed numbers, citing China as a strong engine of growth. For bulls, this is exactly what you wanted to hear. Hence, we're enjoying a commodity led rally today — because China, err, likes and needs commodities.
Here are the top performing sectors, early going, which are also Trump plays.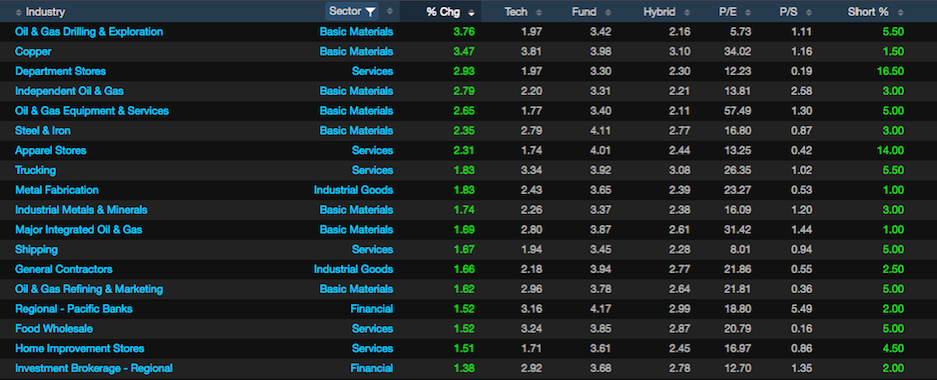 Notes from the FCX quarter.
Not committing to projects now…
China copper demand has been better than expected.
Seeing higher than normal copper supply disruptions.
Saw a high level of worker absenteeism which had an impact on mining operations.
Indonesia Talks- Moving to the next stage with a mutual optimism. Says both sides closer to objectives with Indonesia; Seeing more Senior level action in Jakarta that it has seen in the past; At point of moving discussions to direct talks with government officials; talking about extending operating rights and getting assurances that would give them the confidence to invest in big under ground projects; Talks about any divestitures have to be at fair market value.
And, notes from the CAT quarter.
Reports Q2 (Jun) earnings of $1.49 per share, excluding non-recurring items, $0.23 better than the Capital IQ Consensus of $1.26; revenues rose 9.6% year/year to $11.33 bln vs the $10.96 bln Capital IQ Consensus.

As a result of increased demand across many end markets and disciplined cost control, Caterpillar is raising its 2017 outlook. Some risks remain in the outlook, including weakness in the Middle East and Latin America, as well as geopolitical and commodity risk

Co issues upside guidance for FY17, sees EPS of $5.00 vs. $4.32 Capital IQ Consensus Estimate

Meanwhile, the co raised its FY17 sales guidance to $42-44 bln vs. $40.74 bln Capital IQ Consensus Estimate, up from $38-41 bln, which was given in April 2017

Back to the quarter…

The 10% in increase in YoY sales was primarily due to higher sales volume, with the largest increase in Construction Industries mostly due to higher end-user demand for construction equipment
Sales volume for Resource Industries increased due to improved end-user demand for aftermarket parts and the favorable impact of changes in dealer inventories. Energy & Transportation's sales were higher mostly due to increased demand for aftermarket parts for reciprocating engines. Favorable price realization in Construction Industries also contributed to the sales improvement. The unfavorable impact of currency was mostly the result of a weaker euro and British pound. Financial Products' segment revenues were about flat

Sales increased in Asia/Pacific, North America and Latin America, and were about flat in EAME

Caterpillar's financial position continued to strengthen. Machinery, Energy & Transportation operating cash flow was $2.0 billion during the quarter, and ME&T's debt-to-capital ratio improved to 38.6 percent, compared with 41.7% at the end of the first quarter of 2017
FCX is up 13% for the day. Interestingly, it was up 17% in July of last year too, only to shed 20% in August.
If you enjoy the content at iBankCoin, please follow us on Twitter