I feel like this is a 1999 theme revisited: optical stocks. Any of you traders remember the fiber optic stocks in the late 90s, how they ripped, because the telcos were building out fiber networks? They were the craziest trades of all time — maybe second to the railroad craze in the late 1800s.
At the heart of the dot com boom and bust were the telcos and the facilitators, the fiber plays.
More than 15 years after the fact, it appears the industry is going through a revitalization, as networks get upgraded and cable companies continue to expand into traditional telco. But the recent craze and interest in these stocks is more than just fiber networks. They are plays on Amazon's expansion into datacenters and the new rollout of 40g/100g products. Long time shareholders do not need to be told this, since the stock is up more than 500% over the past year.
Today, the stock is surging again, after reporting better than expected guidance. For those interested in why AAOI and other laser stocks are doing so well, look no further than Amazon's web services hyperscale build out. 82% of AAOI's business comes from datacenters.
Specifically, AAOI now sees revenue of about $117.3 million, above the prior outlook of $106.0-112.0 million. Non-GAAP fully diluted earnings per share are expected in the range of $1.31-1.36, above the prior non-GAAP outlook of $1.09-1.19 per share. GAAP and non-GAAP gross margin in the range of 45.0-45.4%, above the prior non-GAAP outlook of 41.0-42.5%.

Management gave commentary that, "we expect to deliver another record quarter with our top and bottom-line results expected to exceed our guidance." Further, "our results were driven by improvement in our manufacturing costs, capacity expansion and solid execution by our production team. We are pleased with our performance and look forward to sharing the additional details of our second quarter results on our conference call in August."
This guidance raise marks the fourth such update in a row on a quarterly basis. The last such guidance revision came on April 12, when AAOI announced expectations for Q1 results ahead of original guidance.
Look at the revenue and earnings growth for this company.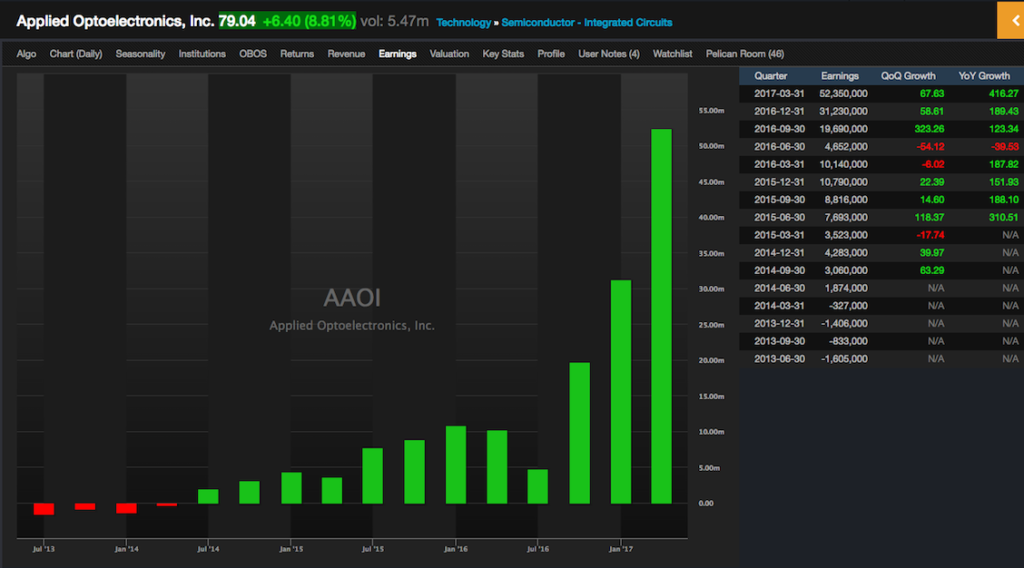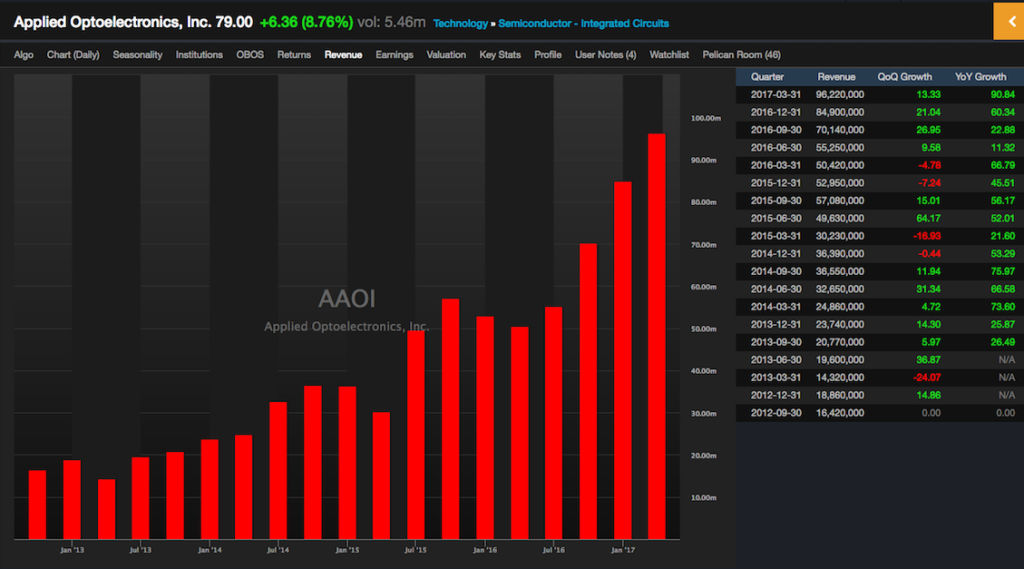 Other prominent and favored fiber plays, benefitting off the 100g rollouts, include: LITE, IIVI, OCLR, FNSR, IPHI, NPTN and SMCI.
Look at the chart on this COHR.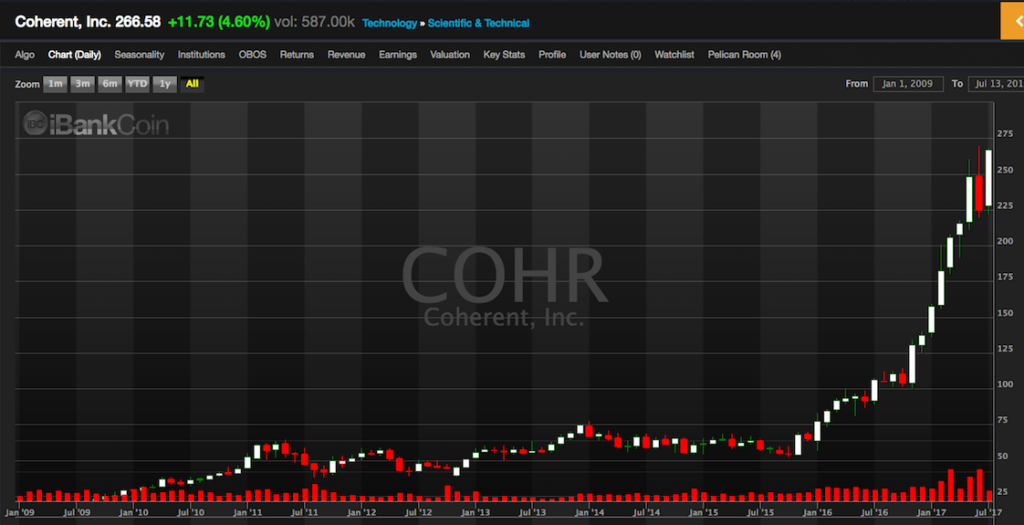 For more on the story, here is the May conference call for AAOI.
If you enjoy the content at iBankCoin, please follow us on Twitter