Tech stocks are being muddied again. The larger and noteworthy narrative here is the plunge in high beta stocks, tracked by me in what's called a 'Bubble Basket.' These are high valuation, high return names, which have been cracked asunder during today's session — down by 1.63%.

On a more personal level, I've never spent more money at the grocery store in my life. After leaving whole foods with half a cart filled with steaks, chops and delicacies, I find myself angry at the bill — usually in the range of $400-$600. Everything is expensive. If you want to eat cheaply, head on over to Shop-rite and procure poisonous foods for yourself and your family.
Today's KR is getting rocked. Being the country's largest independent food retailer, I'd say this is a big deal. We're at 2014 levels on KR today.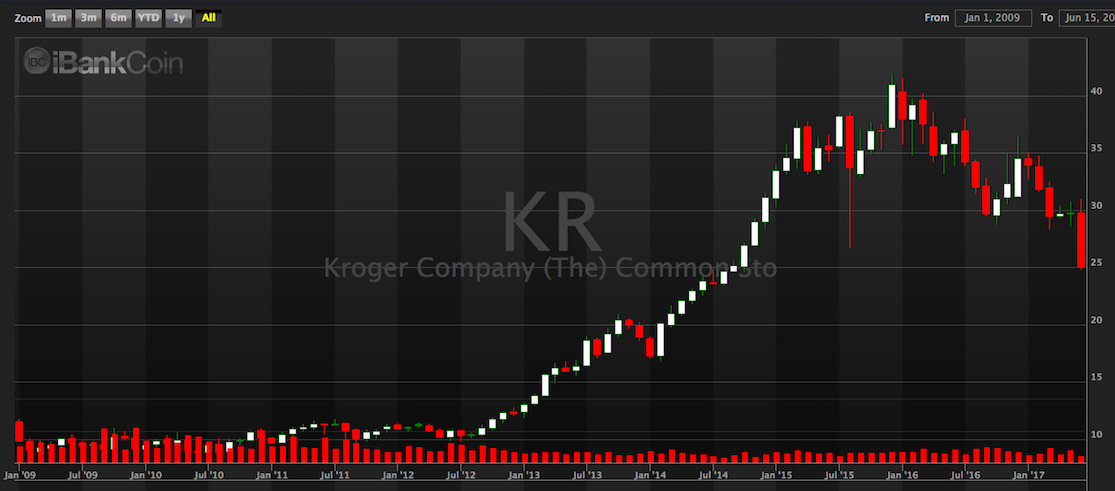 Kroger reports EPS in-line, beats on revs; lowers FY18 EPS below consensus (30.28)

Reports Q1 (Apr) earnings of $0.58 per share, excluding non-recurring items, in-line with the Capital IQ Consensus of $0.58; revenues rose 4.9% year/year to $36.28 bln vs the $35.69 bln Capital IQ Consensus.

Co issues lowered guidance for FY18, sees EPS of $2.00-2.05 from $2.21-2.25, excluding non-recurring items, vs. $2.19 Capital IQ Consensus Estimate.
Gross margin was 22.1% of sales for the first quarter. Excluding fuel, ModernHEALTH and the LIFO charge, gross margin decreased 45 basis points from the same period last year.

Guidance Details: Kroger continues to expect identical supermarket sales growth, excluding fuel, of flat to 1% growth for 2017. The company continues to expect capital investments excluding mergers, acquisitions and purchases of leased facilities, to be in the $3.2 to $3.5 billion range for 2017.
This has spilled over into other retailers of delicious provisions, such as SFM (-9%), SFS (-7.6%), WFM (-6.6%) and SVU (-5%).
Dare I say, what the hell is going on in America, in that its finest retailers of food are plunging in share price? Clearly, what this market needs is a dot plot and much higher interest rates, to help break us out of this low interest rate burden of an environment.
If you enjoy the content at iBankCoin, please follow us on Twitter