Fed Chair Yellen is going to destroy your way of life. The Fed hiked rates by 25bps again, in spite of a very weak economic backdrop — sending shockwaves through the market. The Nasdaq is now deeply in the red, off by 35.
FED RAISES RATES, MAINTAINS FORECAST FOR ONE MORE HIKE IN 2017
*FED SAYS IT'S `MONITORING INFLATION DEVELOPMENTS CLOSELY'
*FED SAYS KASHKARI DISSENTS IN FAVOR OF KEEPING RATES ON HOLD
*FED SAYS IT EXPECTS TO START SHRINKING BALANCE SHEET THIS YEAR
*FED MAINTAINS BALANCE SHEET REINVESTMENT, LAYS OUT UNWIND PLAN
Source: Bloomberg
RATES: Target range for fed funds rate was raised to 1%-1.25% from 0.75%-1%; decision included dissent from Minneapolis Fed's Neel Kashkari; rate increase is third hike since December 2016

RATE OUTLOOK: Keeps reference to gradual pace of future rate increases, continues to say fed funds rates is likely to remain below expected long-run levels "for some time" and actual path of rate will depend on outlook

INFLATION: Says inflation on 12-month basis will stabilize around 2% over medium term, but is expected to stay somewhat below 2% in near term; said inflation excluding energy and food is running somewhat below 2%; Still says that FOMC will monitor inflation developments relative to its "symmetric goal"

ECONOMY: Fed now says economic activity has been rising moderately this year vs prior assessment that it has slowed; continues to say U.S. labor market has continued to strengthen and now calls solid job gains as having "moderated"

REINVESTMENT POLICY: Fed deletes prior language that said it will keep existing reinvestment policy in place until normalization of fed funds rate "is well under way"; also removes reference to FOMC's holdings of longer-term securities staying "at sizable levels"

RISKS: Near-term risks to outlook still appear "roughly balanced" as FOMC monitors inflation developments "closely"
It's important to note, for the sake of posterity, the Fed is raising rates as retail and oil and gas stocks collapse in value. This could end up being an important factor for markets in the future, because the Fed is raising the borrowing costs for industries both maligned with debt and under duress.
Here are the year to date losses for some key industries.
Department stores -38%
Oil and Gas Exploration -31%
Apparel stores -24%
Independent oil and gas -22%
Here is the full FOMC statement.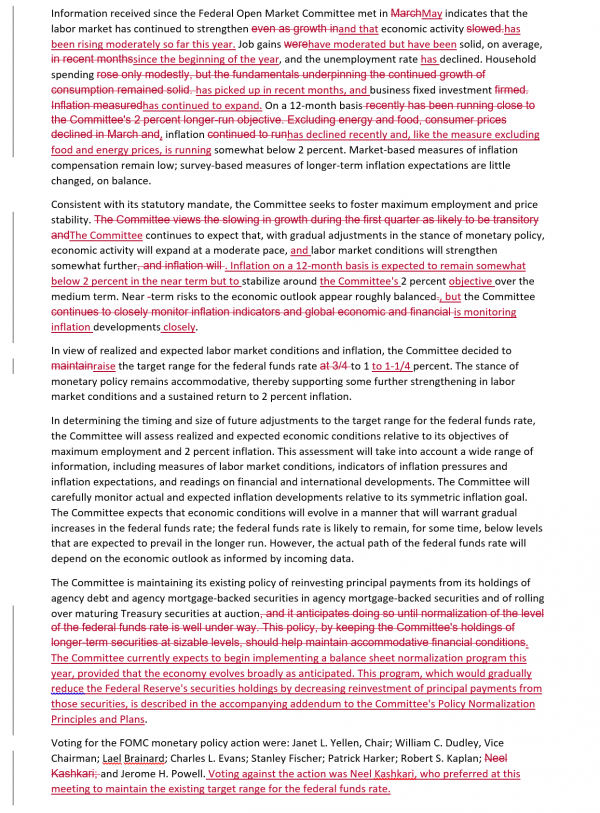 According to the BLS, US inflation decreased by 0.1% in May vs an expected increase of 0.2% and has been running under 2% for years. I see no reason for hiking rates, other than to hurt economic activity.


If you enjoy the content at iBankCoin, please follow us on Twitter