What a splendid day in the neighborhood. The temperature and humidity are perfect. And Bitcoins are crashing through the floorboards — taking all speculative measures with it.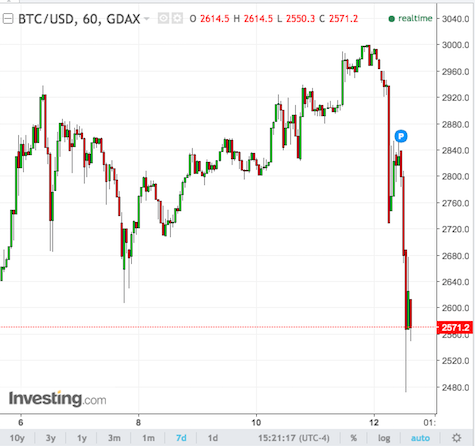 Kaplunk! — hammered by 14% and counting
Ethereum was up 21% earlier in the session, and now it's down — because the world is ending.
On the equities side of the ledger, tech's brightest and best barely down. Only Apple is down more than 3%, thanks to a couple of downgrades. Everything else is down around 1-2% — hardly crash worthy. However, as we dial down the market caps, the losses become more extreme — as should be expected. Nevertheless, losses are extremely manageable and I'm sure the dumbest amongst you are ready to hop back in.
If this is the beginning of a real drawdown, you will soon begin to rue the day you bought dips, especially in tech. The concentration amongst Wall Street's most stimulated is at an extreme now. Never has there been such a time when 'hedge fund hotels' held so many FANG or FAAG stocks. It's only a matter of time now before that trade unwinds, for the benefit of posterity.
The safe havens are now found in beaten up sectors, like retail, oil and REITs, while gold and bonds are ignored by the risk averse. This tape is especially detrimental, as the standard correlations, at least for now, are being ignored. To me, this means we're in for an unusual event, perhaps an extraordinary decline in the not-too-distant future.
I am long stocks with 70% of my assets, 20% reserved in cash, and another 10% in TLT/GLD. I am broadly diversified and have minor losses for the day. My portfolio will adjust, according to my model, each and every Friday.
The one stock I am watching for risk appetite is NVDA. It embodies all that is sacred and wrong with this society.
Let the games begin.
If you enjoy the content at iBankCoin, please follow us on Twitter