Let me explain something to you punk-idiot-morons. The 'Trump rally' that emblazoned your portfolios with capricious gains post election were predicated on two things.
1. yield curve widening the fuck out, bestowing instant profits into the coffers of our local and beloved billionaire banksters.
2. economic stimuli that was supposed to stoke inflation, causing the price of commodities and yields to run higher with wages.
Guess what, fucked faces? All of that has been canceled. If we're going to price out the Trump wall building extravaganza, higher wages, better trade deals, gigantic infrastructure builds, lower taxes, healthcare reform, then what will we be left with?
Answer: a bag of dicks and negative interest rates.
On election night, the 10yr treasury was yielding 1.82%. Today, it's north of 2.22%, in spite of today's dramatic 11bps collapse.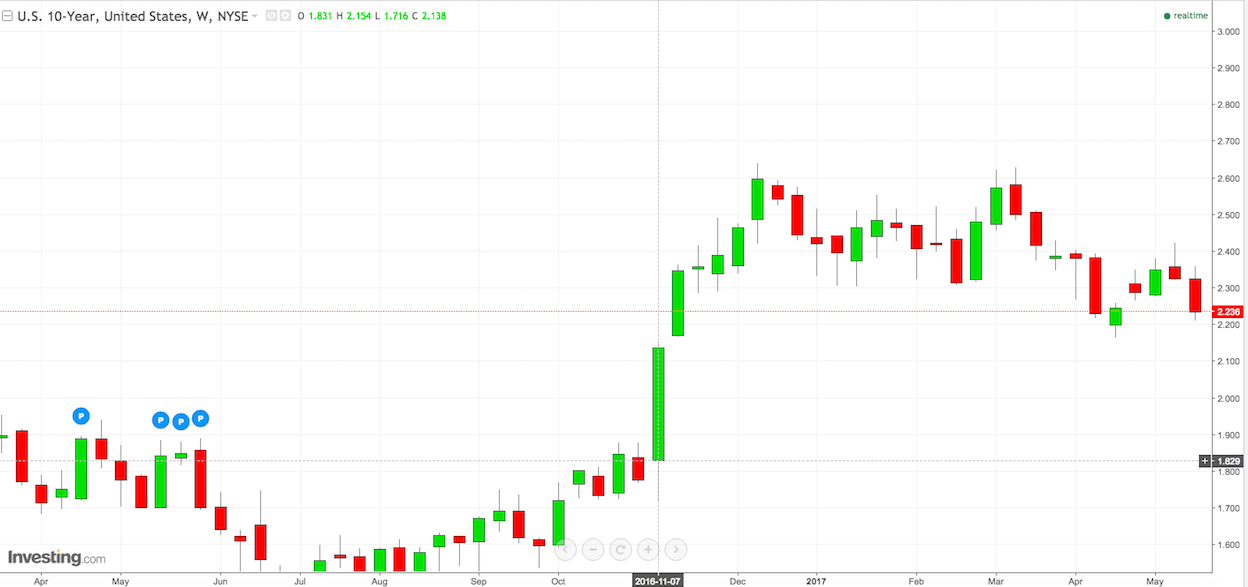 The spread between the 2-10 year treasury, aka the automatic profit the banks enjoy, is now below 100bps for the first time since the election. Without question, the flattening of the yield curve is the market's way of saying 'growth is slowing', danger is ahead.
BMO Capital chimes in.
The day generated little in the way of new information but did serve to highlight how all-consuming the Trump news cycle had become. With little data and nothing from the Fed, the market was left largely dwelling on the headlines and broader implications for Trump's policy objectives, not to mention the possibilities of impeachment. Though we're very much on board with the view that we're unlikely to receive much fiscal stimulus in the long-run, the speed of the move suggests a short squeeze and some consolidation (bounce in yields) in the coming days.
The main issue with the yield curve collapsing to pre-election levels is that the financials haven't moved in sync. Here are some high profile names in the financial and their 6 mo returns.
SIVB +17%
DB +16%
CIT +14%
BAC +13%
MTB +13%
JPM +9%
C +9%
CFR +7.6%
CS +5.3%
USB +5.2%
UBS +4.5%
GS +2.5%
Try to justify why any of those banks should be higher year to date? You can't.
If you enjoy the content at iBankCoin, please follow us on Twitter