Chairman of the United States House Permanent Select Committee on Intelligence, Devin Nunes, disclosed in a press briefing today that intelligence documents confirm that Trump and his team were victims to 'incidental' surveillance, both before and after the elections.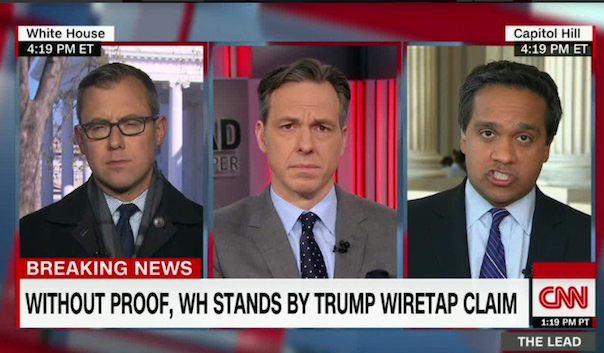 s h i l l s
Rep. Nunes, said he was  'alarmed' by these new facts and would discuss them with his colleague, Rep. Schiff. What of extreme interest to note is the fact that the intelligence, according to Nunes, was of the foreign varietal — which then later made its way into American intelligence briefings. Several weeks ago, White House press secretary, Sean Spicer, suggested that British Intelligence (GCHQ) had been asked by President Obama to spy on Trump, as a way around American surveillance laws.
Sean Spicer said his source for the GCHQ claim was none other than Judge Napolitano, who was recently suspended by Fox was pushing the narrative.
Judge Nap's source was former intelligence official, Larry Johnson, who said in an interview on CNN: "when Donald Trump tweeted what he did on Saturday two weeks ago, the next day I was interviewed on Russia Today. Now I had known about the fact that the British, through GCHQ, were passing information through back channels. This was not being done at the direction of Barack Obama, let's be clear about that. But it was being done with the full knowledge of people like [former CIA director] John Brennan and [former Director of National Intelligence] Jim Clapper. And I had been told this by two different people I know within the intelligence community in January. They were very concerned about this because they saw it as an unfair meddling into politics. But it was a way to get around the issue of American intelligence agencies not collecting."
Nunes during presser:
"I have seen intelligence reports that clearly show that the president-elect and his team were, I guess, at least monitored," Nunes told reporters.

"It looks to me like it was all legally collected, but it was essentially a lot of information on the president-elect and his transition team and what they were doing."

"I want to be clear, none of this surveillance was related to Russia or the investigation of Russian activities or of the Trump team,"
Reporter: 'Do you think right now the NSA was spying on Trump during transition?"
Nunes: (audible laughter) "I guess that all depends on one's definition of spying…"
I guess the only question to ask now is, will they apologize to Trump and lift Judge Nap's suspension?
If you enjoy the content at iBankCoin, please follow us on Twitter