It's imperative that Wall Street be afforded the opportunity to pile up investment banking fees in China — before the whole kit and kaboodle goes bust and the Chinese reinvigorate the ancient ritual of cannibalism to fend off mass starvation.
In light of the fact that worldwide debt to gdp has exploded to near unsustainable levels (US 105%, Japan 229%, Italy 133%, Portugal 129%, Singapore 104%, Spain 99%, France 96%, Ireland 93%, Canada 91%, UK 89%) — China's mere 43% debt/gdp offers our beloved banksters with wanton levels of opportunity. Most of the low debt/gdp nations are third world shitholes — who are completely reliant upon globalist schemes to uplift their standard of living enough to make their credit marketable. But the Chinese are ready now and several of Wall Street's finest banks are prepping the grounds for massive issuance.
Deutsche Banks sees the Chinese bond market expanding my a staggering 27% this year — equal to its GDP. That's awfully ambitious, especially given the fact that foreign owned Chinese debt has shrunk in recent years.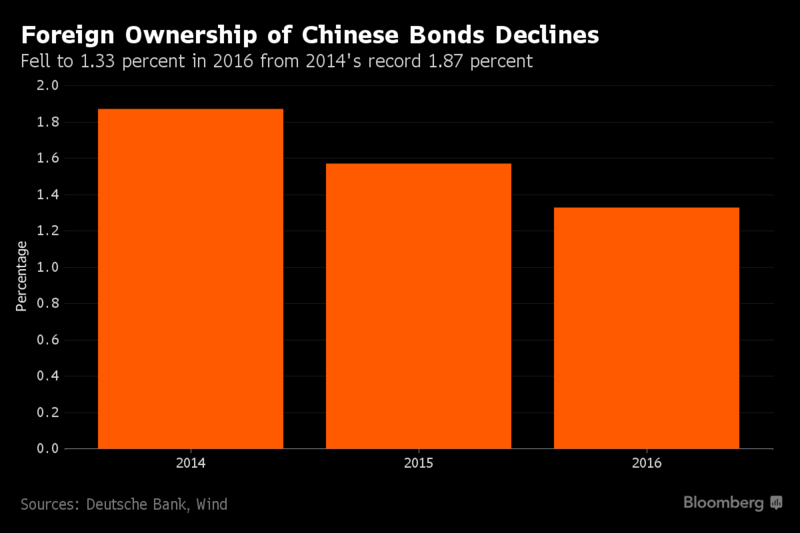 "There are a lot of developments in recent weeks for hedging," said Chia-Liang Lian, head of emerging-market debt at Western Asset Management. "It makes it very constructive in terms of the outlook for onshore investments in China."
Part of Wall Street's plans is to give investors FX protection via hedging tools. The PBOC are working towards meeting the demands of foreigners, in order to take their money.
"The PBOC will definitely improve arrangements of related regulations, such as law, accounting, auditing, tax and credit rating, and create a more convenient and friendly environment for overseas investors," Pan said. "We'll need to communicate more with overseas investors in this process. I don't think this is urgent. We'll do it step by step."
In the onshore corporate bond market, both JP Morgan and BNP Paribas just joined Standard Chartered PLC and HSBC as the only banks permitted to sell 'panda bonds' in the country — yuan based debt to Chinese investors. That too is a ripe market for growth, with overseas banks representing just 2.8% of the issuance in China last year.
"Foreign underwriters have an advantage over Chinese counterparts in helping foreign companies tap China's bond market because they know overseas clients a lot better," said CG Lai, the Greater China head of global markets at BNP Paribas in Shanghai.
If you enjoy the content at iBankCoin, please follow us on Twitter