We can't all get our way, now can we Sally? I see she's from Brooklyn, just like me. The only difference is, I grew up there, pre-gentrification era, when the real estate prices were low and the crime was high.
Why is this libtard and CNN commentator relevant? After examining these people closely, like lab rats, over the past year, I think it's fair to say she represents a very large portion of the illiberal left — people who'd gladly trade freedom and democracy to placate their emotionally unstable minds.
This is her plan.
Straightforward from here:
1. Impeach Trump & Pence
2. Constitutional crisis
3. Call special election
4. Ryan v Clinton
5. President Clinton

— Sally Kohn (@sallykohn) February 15, 2017
She's also on record, comically fucking herself into a labyrinth of oxymoronism.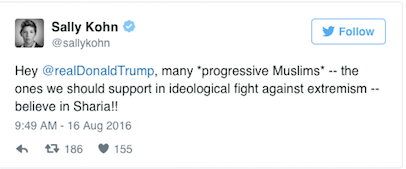 If you enjoy the content at iBankCoin, please like our Facebook page