One thing is for certain, the market is in love with President elect Donald Trump. The hope for change that is being exhibited by Wall Street, especially in light of Trump's pro-business cabinet picks, will go down as the biggest post-election rally in the history of the United States.
Since election night, the Dow Jones is higher by 8% — rallying more than 1,000 points — making it the biggest and most gauche rally ever.
Source: WSJ
The Dow's 8% gain in the five weeks after Donald Trump's victory is the biggest surge following any U.S. presidential election in history. The rally, which has the blue-chip average on pace for its fastest 1,000-point rise ever, has been accompanied by a sharp jump in bullish sentiment.

When stocks move this far this fast, caution is usually warranted. This time, history might suggest otherwise.

There have been five other instances in which the Dow jumped at least 5% in a five-week period following a presidential election. Over ensuing six-month time frames, it continued rallying four of five times, gaining another 10%, on average.

A blogger cited by Marketwatch has slightly different data. He used the SPX and the Dow when for periods before the SPX was created. The issue I take with that is the SPX wasn't 500 stocks until 1957, so much of what he has below might be incomparable gibberish. Nonetheless, looking at the tremendous rallies after Teddy Roosevelt, McKinley, Coolidge and Hoover, it appears the Trump-Bump may have room to grow — before being able to claim the top spot — according to this data.
source: Macro-Man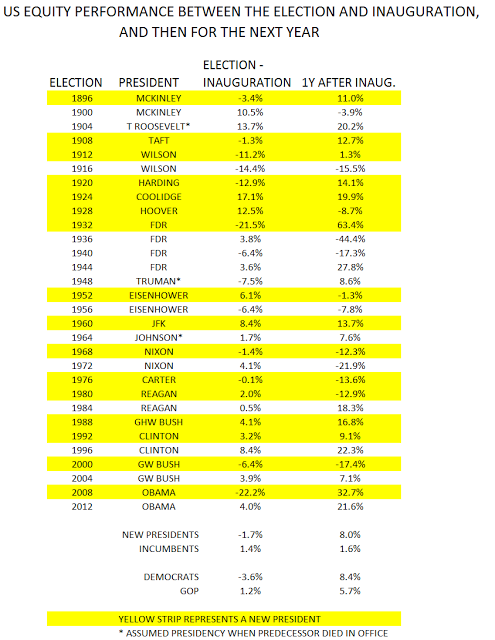 If you enjoy the content at iBankCoin, please follow us on Twitter