If you're just tuning in, recent Wikileaks tied John Podesta to Marina Abramovic — through an invitation to an occult 'spirit cooking' dinner — hosted by Marina. In short, it entailed ingesting fresh human breast milk, sperm and menstrual blood. I am not fucking with you.
These people are demons! Vile, sick creatures! You ready to be red pilled? This is #SpiritCooking
pic.twitter.com/W5v95HNuTp

— O-T?MAGA Original? (@hrtablaze) November 4, 2016
Now, new documents show the Clinton Foundation donated $10,000 to Marina. Moreover, in a brand new state department email out right now, it shows Huma Abedin discussing Marina with HILLARY CLINTON in an email communique.
BREAKING: Marina Abramovic mentioned in BRAND NEW State Department emails with Huma & Hillary! #SpiritCooking https://t.co/TFqWe7Fbfy pic.twitter.com/zPlBnZqPEc

— ALWAYS TRUMP! (@Always_Trump) November 4, 2016
Here is the Clinton Foundation donation to the 'artist' known as Marina.
The Clinton Foundation provided $10,000 toward Maria "#SpiritCooking" Abramovic's performance art for "General Operating Support. @Cernovich pic.twitter.com/sOkmDERuw8

— ?PepeTrump?? (@fige1000) November 4, 2016
Tony Podesta has a collection of naked teenagers in his home.
The pictures ringing Tony's ninth-floor office at PodestaMattoon deliver an unusual welcome. A suite of arresting computer-manipulated photographs by Dutch artist Margi Geerlinks serves as a cautionary tale of genetic engineering. One shows a boy seemingly born from a sewing machine. Another finds a young girl knitting her own hair. A third has a naked woman immersed in blood-red liquid.

It's not hard to imagine the jolt that executives from biotech concerns such as Genentech or Serono get when they walk into the room — and they're clients.

"Some people think it's a little weird," Tony says of his choices. "But that's their problem."

Steeped in liberal politics, Tony favors art with in-your-face nudity and social critique.

"We're not trying to confront sexism and racism in our art collection," he insists. "Though occasionally they intersect. Some people's politics are other people's aesthetics."

And some people's aesthetics are other people's embarrassments. Tony's younger brother John (yes, that John, Bill Clinton's former chief of staff and current president of the liberal think tank Center for American Progress) admires his choices in art but recognizes that not everyone gets it. Says John, "I don't think Tony focus-groups his art."

Though pictures rotate on and off the walls of the couple's homes, a piece in the Woodley Park living room stays. Called "Soliloquy VII," the nearly eight-foot-tall color photo by British artist Sam Taylor-Wood is an update of a late-15th-century painting of the dead Jesus. Taylor-Wood faithfully replicates the original's composition, here photographing, in vivid color and minute detail, a young man laid out on his back. Just one thing: Taylor-Wood omits the shroud, displaying his subject in all his nakedness.

Though often politely ignored, "Soliloquy VII" is rarely forgotten. Tony and Heather love it. They crane their necks to hear the whispers generated when the pols stop in. Tony often uses the work to launch into a story about Hillary Clinton's visit, when she ducked and tiptoed around the work lest any photo opportunity capture her alongside the naked figure.

"You've got to be pretty secure to have an eight-foot-tall naked man in your living room in Washington, D.C.," Heather says of her husband's choice.
What Heather suggests as a badge of her mate's confidence is a highly intentional statement. After all, Tony's job is to make an impression. Besides, when the piece isn't generating blushes, it's generating conversation.

"At political events, there's an inevitable awkwardness," former Clinton administration official Sally Katzen said at a Women's Campaign Fund dinner at the Podestas' home this summer. "The art is an ice-breaker. It puts people at ease."

Not always. Folks attending a house tour in the Lake Barcroft neighborhood in Falls Church earlier this year got an eyeful when they walked into a bedroom at the Podesta residence hung with multiple color pictures by Katy Grannan, a photographer known for documentary-style pictures of naked teenagers in their parents' suburban homes.

"They were horrified," Heather recalls, a grin spreading across her face.
Lastly, John Podesta has a painting of human cannibalism in his fucking office.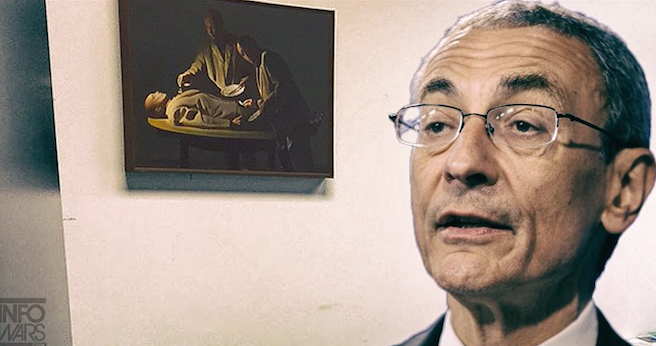 These are sick, goat-fucking, satanists. Now it all makes sense.
Bonus: Chelsea Clinton wearing cross upside down. This is an expression of being a satanist.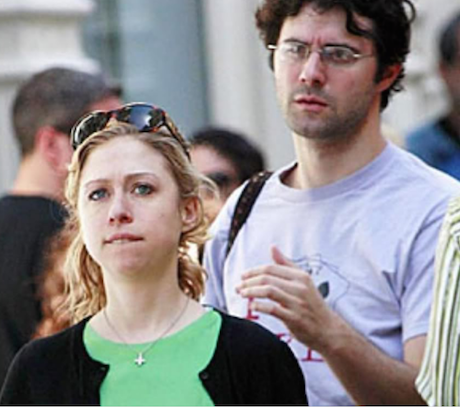 If you enjoy the content at iBankCoin, please follow us on Twitter