WTI trades down to 28, like a moron. Brent crude trades down by 7%. Stocks rally.
What the fuck? You must be wondering how the marker is rising when Brent got smashed into the rocks for 7% and WTI is embarrassing itself at $28. The simple fact of the matter is, we've gotten to a point of extreme apathy. Investors are so apathetic to the price of crude and stocks, they're beginning to not give a shit, relying on pure animalistic instincts to guide their investments.
***AN INTERMISSION OF SORTS***
(look at this ridiculous shit, taking place in the 'oil patch' today)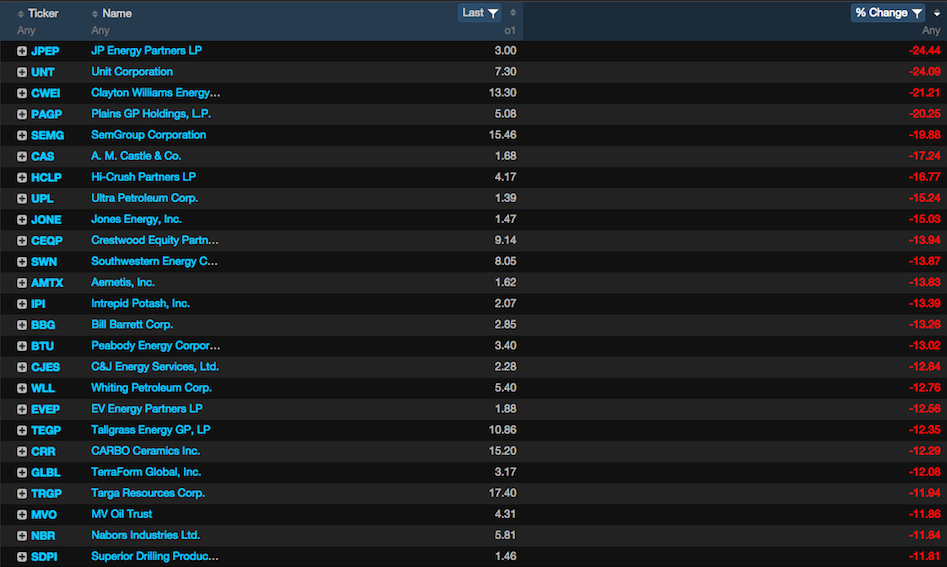 I know you think I'm fucking with you, but I'm not. Man is a savage beast of an animal, incapable of harboring emotions for a prolonged period of time. Every so often, we wallow about the pub, bitching about this or that. But, eventually, our basest instincts take over and we start ripping heads off shoulders, pissing in the wind, attacking our neighbors with homemade trebuchets.
Ladies and gentlemen,
We've come to an end in these markets. They've annoyed people for too long. They've gone down and down some more. This is the part of the story when a short squeeze develops. The news flow changes, from horribly morbid, to crazily optimistic. The bad news becomes good and the good news becomes better. Janet Yellen will be viewed upon as a national hero, come tomorrow. The market will rejoice in the splendor of dead bears swinging from gibbets on Wall.
Prepare yourselves for the unthinkable: sharply higher stock prices.
If you enjoy the content at iBankCoin, please follow us on Twitter