Next up June. Futures traders are playing with fire, lulling an already scared-shitless stock market into a false sense of security, attempting to hemlock the Fed into not jacking up interest rates, (count 'em) four times in 2016.
Futures traders at the CME now indicate the central bank will not move on rates until June, following a major selloff in the market Friday morning. The chance of a March hike, above 50 percent just a few days ago, has dwindled to 35 percent.

The next closest month for a hike is now June, which has a 54 percent probability. Earlier in the morning, expectations had put the hike off until July, but that pulled in after New York Fed President William Dudley said in a speech that he still sees rates on a steady trajectory higher.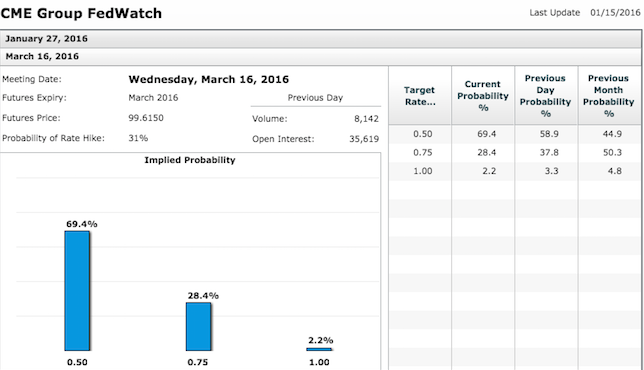 Despite global equity markets crashing through the floor boards the first 10 days of 2016, Federal Reserve talking heads still went out and said the economy was strong enough and awesome enough to absorb, and rather enjoy, 16 rate hikes over the next 3 years.
Should the Fed pursue this strategy with vigor, the last rate hike will be announced atop of mountain of smoldering rubble–in the midst of American revolt.
If you enjoy the content at iBankCoin, please follow us on Twitter