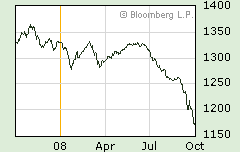 Above is the state of the Hedge Fund industry, as evidenced by the Global Hedge Fund Index. I have never seen or heard of so many funds getting "ape raped" by the markets, than right now.
Every manager got caught heavily long commodities and global growth plays. From Agrium Inc. (USA) [[AGU]] to Olympic Steel, Inc. [[ZEUS]] , hedge funds are fucked and many of them are going out. At the end of the day, many of you will be shocked to see how many funds close. Even popular CNBC guest hosts (Einhorn), who accurately nailed the credit crisis, are down double digits. If you are managing a fund that is deep in the hole, you are done.
Most will close.
Many people are banking on a 4th quarter rally to help save the industry. However, it's just going to blow up more people, as everyone tries to catch the "hot trade." The volatility is killing people; and it will continue.
As for the markets:
I am selling most of my longs here. I am more comfortable with [[SRS]] and [[EEV]] , than [[ROM]] and other bullshit longs. The stock Gods bailed "The Fly" out today, via Wachovia Corporation [[WB]] magic. I am grateful for such gifts of coin and will celebrate my "non-win" over a few 2 1/2 inch rib eyes. And, I will drink a nice bottle of Bordeaux.
It's too late for a bailout. The banks are circling the toilet bowl. Proceed with caution.
Top pick: SRS
If you enjoy the content at iBankCoin, please follow us on Twitter