Let's review for the sake of posterity. It's important that we learn from mistakes and educate ourselves about how the market really works.
Facts:
SAAS or software stocks are the best stocks in the market — thanks to growth.
SAAS stocks are favored in both private and public markets because of predictability in their business models.
We are in the early stages of enterprise moving IT budgets away and into the hands of specialists in the SAAS industry.
The SAAS sector is the most overvalued in the market, due to the above reasons, and are subject to sharp downturns.
None of those points can be debated. If you hate SAAS and love oil, simply put, you are an idiot.
When SAAS stocks go rocked in October, I TOLD YOOOOO the sector was most oversold since 2014. The oscillator inside Exodus demonstrated this plainly.


Here are two of maybe a dozen articles with me ranting about this.
SAAS STOCKS NOW OVERSOLD MOST SEVERELY SINCE 2014
How Oversold Are SAAS Stocks Now?
Returns over past month.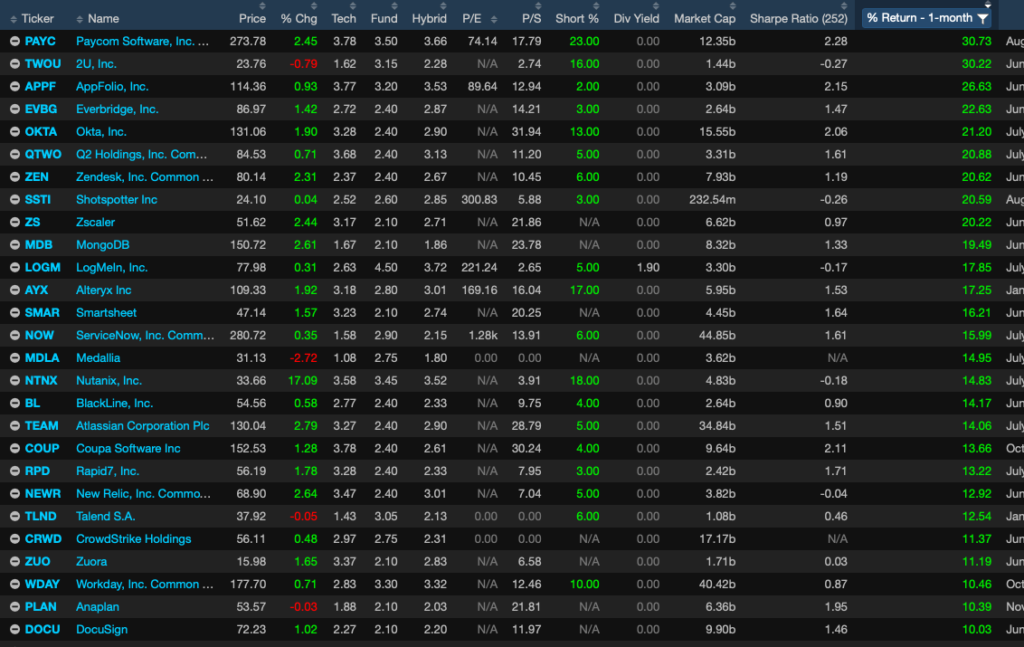 So how did Lord Fly capitalize on this occurrence? Not much. I have restrictions in place that keep me either in a Quantitative model or very short term trading fool. Both models are great for long term growth, but I'm missing the best ideas approach to investing, a style that I often practiced when I managed money professionally. So, starting 2020, Le Fly will open up a "Best Ideas" portfolio again and populate it with my best ideas. I will still trade and do the quant, but there is a space missing in my investment experience here, as I miss out on ideas and strategies that I know work — but cannot execute upon them because of self imposed rules.
Well, fuck that and fuck you Dr. Fly for keeping the shackles on me. The roaring 20s are just around the corner and I intend to get my share.
If you enjoy the content at iBankCoin, please follow us on Twitter