Anyone else remember the great SAAS crash of 2014? I sure do — it nearly ruined me and killed me simultaneously. Here we are again, with technical levels mightily below normal corrections, the lowest since that dark and grim time.

In a hand picked index concocted by myself of the best SAAS stocks in the market, that index is now lower by 15% over the past two weeks.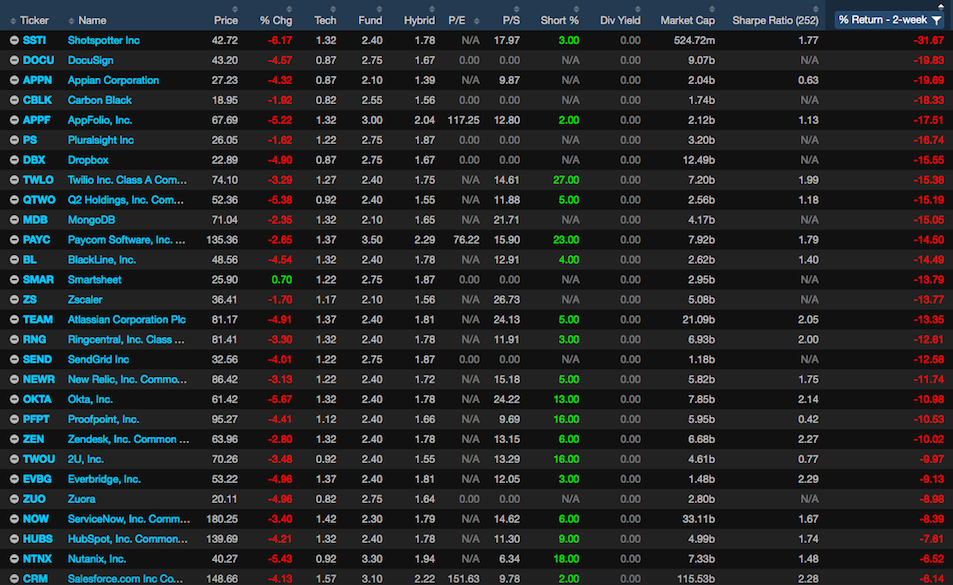 Unfortunately, I got shaken out of most of my SAAS plays — because they reached my pain threshold. I'm not in the business of riding stocks lower just to fulfill some lack of confidence or ego gene that needs to be reassured. If I miss out on a run, it is because I planned poorly for it. Better luck next time.
I will, however, buy into the rebound aggressively, removing the risk of buying into a downward spiraling tape.
Make no mistake, we are severely OS. However, these types of markets often cause manias and broken elevator trading action, with calls from the finance media for a supreme flush out to crush an annihilate the unwashed pleb from the field of battle.
BONUS: Our tech algos are most oversold in Exodus history, including financial crisis.


If you enjoy the content at iBankCoin, please follow us on Twitter