Last night I watched a RealVision video about Bitcoin. In a moment I will tell you why this video is important.
RealVision focuses on Macro market views. Despite their slight gold bias most of their content is well supported in terms of data and balanced opinion.
This is the RealVision interview on Bitcoin.
Here is why this is an important video:
This macro gold guy sees Bitcoin at Trillion plus valuations
Calls Bitcoin a "truth security machine"
Recognizes Bitcoin as an invention and a system to benefit mankind, not a silly digital token
Sees the genius of it's design. The multi disciplinary mastery involved.
Sees the breakthrough of solving Byzantine General's Problem. Says it's not properly valued.
While ETH and a few coins are mentioned, the majority of his thesis works only on BSV
People outside Bitcoin are starting to see what's coming. He's starting to get it. He further states it's irresponsible to not have a 1-2% of your portfolio in Bitcoin.
He presents the Macro story of Bitcoin very well and it's a story that aligns with BSV only. Legal, scalable, professional, honest.
This is the first video I've seen from someone outside Crypto who gets the potential and can talk about it in intelligent terms. Draper, Novogratz etc don't lay out the details as well. I don't think they get it to be honest. This guy is different. He hints at the particulars. He's in the process of groking Bitcoin.
For me, this confirms that guys at this level are prepping for what they see as Macro changes. They are going to be increasing their positions as it becomes clearer to them Bitcoin is here to stay. To be clear, this is not me saying "the institutions are coming". That's a meme propagated by fools. An ETF is not going to save Bitcoin. What I'm saying is smart macro guys are seeing that Bitcoin has survived it's blow off top. It's not going to die. There is a whole world being built on Bitcoin and it's dumb to ignore it. Now is the time to be serious about this breakthrough. Now the real adoption begins.
The market cycle is at play. This is where Macro guys live. They look for this type of play. This chart is their bread and butter and RealVision is posting videos saying the time is now.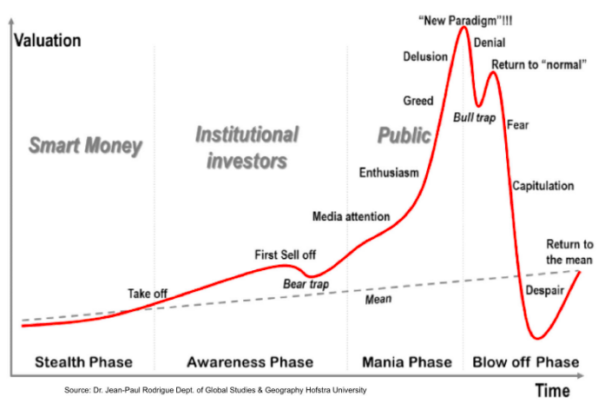 Further, while he didn't mention BSV specifically, if he's doing this level of homework and ignoring the drama he'll naturally discover why BSV is Bitcoin.
If you enjoy the content at iBankCoin, please follow us on Twitter