Caveats: This is not financial advice. Risk management is key to long term success.
BSV has begun to decouple from BTC but has not broken free yet. The BSV chart is less than a year old and therefore using TA can be difficult and unreliable given volatility and limited history. Technicals have not fully digested fundamentals yet. However, the technical view is beginning to gain clarity.
Trigger warning for BTC fans: fundamentally, BSV is superior to BTC in every way. The market is slowly catching on. Look for the charts to reflect this over the next year.
For fundamentals look at bitcoinblocks.live and coin.dance. Both sites tell the story of BSV growing in transactions and the current disparity in price.
Taking the data from coin.dance and using it to calculate the Fair Market Value price of BTC, BCH and BSV we come up this custom price model: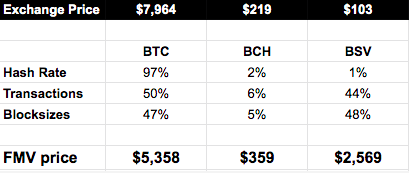 In the model above I am using hash, transactions and blocksize as three key metrics for arriving at Fair Market Value.
During the past 30 days BSV has been in the 40-50% range in percent of overall transactions and block size measured against BTC and BCH yet has a very small percent of overall hash . If we adjust the market prices to reflect the data from coin.dance we have new FMV prices.
If we accept this premise, given today's metrics BSV is undervalued by 25x! This represent the investment opportunity at hand in BSV.
As transaction and blocksize metrics continue to tip more in BSV's favor, which is likely as more data is being stored on BSV via apps like WeatherSV, Preev and a new Air Quality tool, the miners will be forced to move hash to BSV to be competitive. This movement of hash will be the confirmation of a massive shift from BTC to BSV. The setup for this shift in hash is in motion and gaining steam but is not yet fully recognized by the market.
Being ahead of this move in BSV may be the investment of the decade.
Below is a link to this content posted on the BSV blockchain. The same content above is free. There is a $1 moneybutton paywall to get the TA section via the link below.
https://www.bitpaste.app/tx/6e4faac241225343f2f516e4fe19aad8f8e69ae536a360c386bc42d4dd99595d
I am paywalling some info on BSV not to make money but to show the power of BSV and encourage anyone on the fence to start using BSV instead of reading about it. Skin in the game.
A position is not an opinion. An opinion is not a position.
-Jesse Livermore
If you really want to read the TA let me know in comments. I may make it available here for free after a week has passed.
Comments »