There was an interesting occurrence this morning right before we printed the low of the day.  Price traded down to the overnight lows and then completely stalled.  This was right about when the POTUS took to the podium.  Then, as I had suggested may occur, we breached the overnight (yesterday) low briefly, the flow of stop losses created a temporary oversold condition, buyers reacted to seeing the weak sellers and a sharp buying tail printed on the /ES market profile. We also snapped the following trend line lower, finally: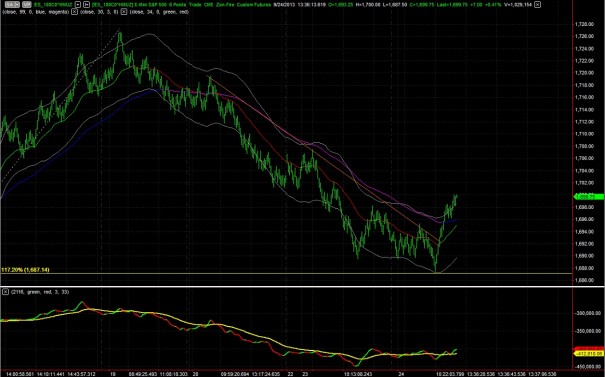 I bought the YGE full sized amidst all this.  It was very lovely execution that brings a little sparkle to Raul's eye.
The velocity of the move was enough to put plenty of shorts in the hole.  It should make for an interesting afternoon as value is being set higher then I expected in my scenario 1 balance hypothesis.
With today's YGE purchase, I am about 85% long, mostly crack rock stocks—stocks like CREE, RVLT, YGE, AMBA, MHR, FB, RBCN, and CLF.
Can you believe I am nearly up 100% on my FB common?  I'm holding steady until at least $100.
The weak-to-strong closing type would be a change of character in the recent market activity and we may be looking at an inflection point.  It is a bit early to tell, but I like my aggressive positioning here.
I intend to use my winnings to finance the purchase of a Tesla Model S, the greatest automobile currently in production.
Comments »