What a pleasant occasion. Here I am sashaying (no homo) up the northeast corridor of the United States, amidst turmoil and tumult, and markets are collapsing. It's like God is really looking out for me — offering me presents for being so good this year. I expect to arrive in Massachusetts soon, at which point I will parlay in Salem, MA to purchase large quantities of macrons and orange jam this delightful little French bakery in the city.
Markets are getting punched out — and for good reason. We're gonna have another Korean War!
The NASDAQ is down 100, led lower by FAANG stocks, which are down 2.1%.
Gold and bonds are the only refuge. Presently, I have 10% of my assets in GLD/TLT and another 20% in cash. You can see why I am eager for lower prices.
Retail is literally blowing up, with larger than life losses in DDS, M and SHLD. When they die, you'll miss them and rue the day Amazon.com was born.
On the plus side is the VIX, heavily fagged out for a long time, now rejuvenated and acting alpha.
Up 30% for the day, so far.


Both TVIX and UVXY are supposed to give investors 3x VIX, but because they're retarded products, they're producing less than 1x.
From the semis to solar back to your local apparel shop, everything gets blown out and stomped during nuclear war. Do not bargain with The Devil, you might not like the results.
While we wait for the war mongering pigs to foment strife and ritualistic carnage in Asia, you should be waiting for an Exodus OS signal.
As we speak, the system is oversold on its 3,6 and 12 month signals. We only wait for the 36 month to trigger, before we take action. For those deeply concerned, our track record is one of flawless victory over the past 12 months. As a point in fact, our data suggests that you should go long here, hold for 10 days, and then collect the proceeds to do as you please.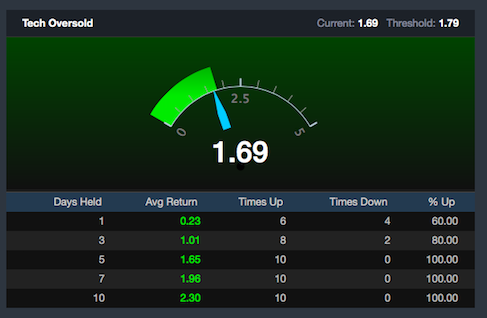 If you enjoy the content at iBankCoin, please follow us on Twitter