She served under every President since Clinton and this Ukrainian American bitch keeps popping up on my radar, always meddling and always seemingly evil.
Here's Victoria Nuland circa 2015 caught on tape in what appears to be her appointing politicians in Ukraine. She was the architect of this whole grand experiment.
Before that she was the principal deputy foreign policy adviser to Vice President Dick Cheney — helping him craft his fucked war in Iraq and then Bush made her the Ambassador to NATO where she spearheaded the task of gathering the 'coalition of the willing' to fuck Iraq and Afghanistan over in a most egregious way — both failed ventures, it should be noted.
During the 2014 coup in Ukraine, Nuland was appointed lead for the "Revolution of Dignity" taking at least $1 billion in American tax payers coin and giving it to Ukraine in order to arm them. In 2016 she started to saber rattle against Russia, detailing a plan for our new vassal state:
The main goal of her plan was not to bring Ukraine and Russia together, but instead to arm them to the fucking hilt — and judging by what we are seeing in the war now — she was successful in doing so.
At the onset of the war nut jobs were running rampant with a theory that Putin acted on Ukraine to destroy biolabs in Ukraine that were creating NEW COVID strains that was to be leaked into Russia. Why? Perhaps Moloch.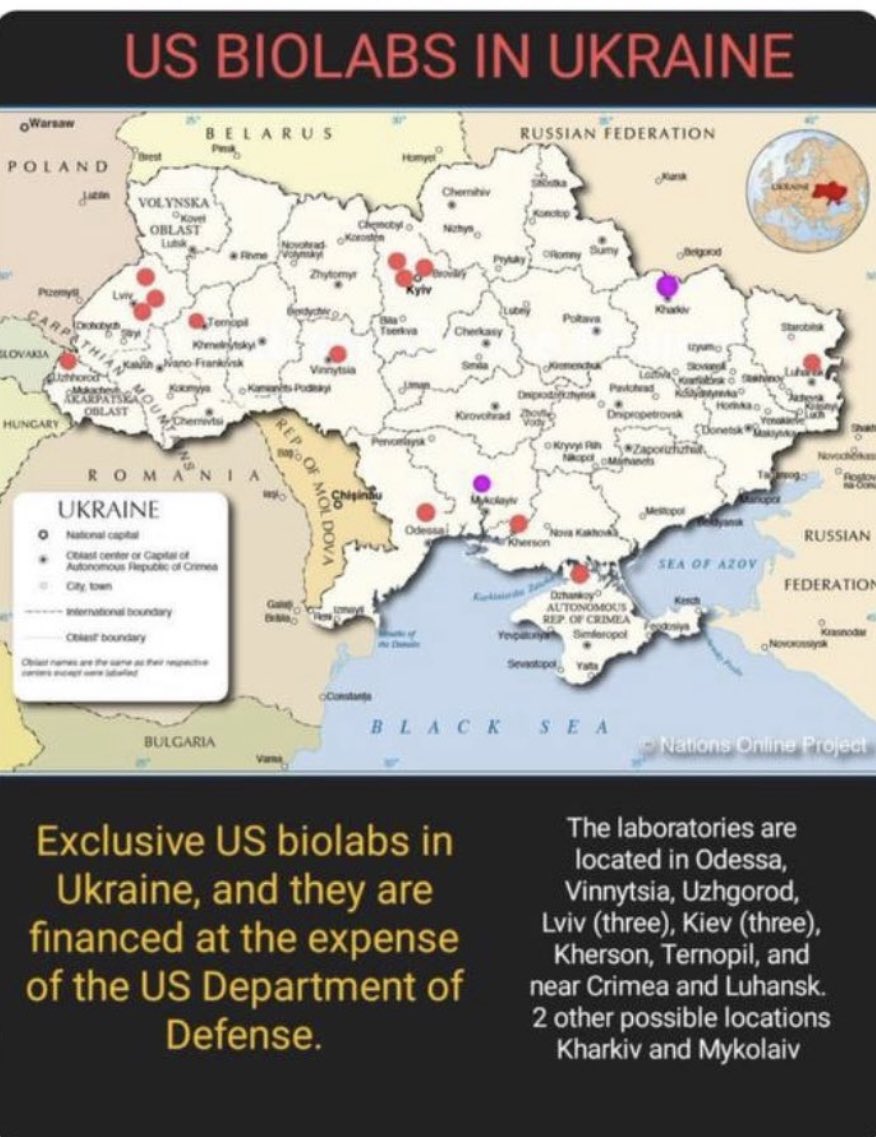 I, like many other normal people, dismissed it as more QAnon bullshit, until this dropped today in her testimony to congress.
NULAND: US AND UKRAINE WORKING TO PREVENT BIOLABS FALL INTO RUSSIAN HANDSpic.twitter.com/Om93PDqPIE

— The_Real_Fly (@The_Real_Fly) March 8, 2022
Why the fuck does the US and Ukraine have joint biolabs and does she really think we're stupid enough to believe Russia upon entering said labs will find something like anthrax or 'The Plague' and release it into the country? THEY ALREADY HAVE THAT SHIT IN RUSSIA and likely have more biological weapons than we do. The idea that Russia would leak already known pathogens into a country they consider part of Russia is ridiculous.
So what are we hiding there?
China seems concerned.
China accuses the U.S. military of operating "dangerous" biolabs in Ukraine #

— The_Real_Fly (@The_Real_Fly) March 9, 2022
It's worth mentioning, both Sec Blinken and Under Secretary Nuland are of Ukrainian descent. What are the odds?
If you enjoy the content at iBankCoin, please follow us on Twitter