I thought it was time to sit down and give a more comprehensive analysis of what this market is showing us.
Is this correction merely letting air out of the bag before another run or is this decline a foreshadowing of something more materially wrong with the economy? See these aren't just stocks with morons trading them, but real companies with employees and when they plunge in value, efficient market theory states there is something to it and it will be revealed in the future. The obvious questions are: is the soft lockdowns and restrictions around the world causing growth to slow? I don't see how any friction doesn't cause growth to slow, although we have yet to see evidence of this.
My other question is: the exacerbated losses in smaller capped names, -15% the past month vs -1.3% for mega-tera caps, suggests widespread carnage in the retail sector. If this is so, are we now seeing the last leg down accompanied by forced liquidations (margin calls) or, again, is the market trying to tell us, aside from monopolies, the economy is about to tailspin lower?
Another thing that has raised an eyebrow for me was a Mizhuo report essentially shitting on SQ, PYPL and AFRM for their buy now pay later schemes. We all traded through the credit crisis. I cannot think of a more credit UNTRUSTWORTHY person than the impulse online shopper. Mizhuo says more than half of the poors (people making less than $75k) missed at least 1 payment. This is how Countrywide Financial imploded, slowly, and then all at once.
53% of the poors have missed 1 BNPL payment $AFRM
pic.twitter.com/lJVllsTNkc

— The_Real_Fly (@The_Real_Fly) December 14, 2021
Some out loud thoughts.
If credit is becoming impaired and if the economy is about to tumble lower, shouldn't we be concerned with auto-loans, notorious SHIT LOANS, and some of these fucking housing loans that have fueled this retardo housing boom?
Just last quarter the imbeciles at Zillow wrote down $304 million thanks to their "AI" auto-buy racket that caused them to bleed the fuck out in housing and cause the CEO to fire 25% of the workforce. Perhaps a company like CVNA could be a similar comparison, using their "AI" to buy cars.
In many respects, the rapid inflation we've been seeing has masked some of the problems in the economy, because with higher prices companies are enjoying higher profits and much of these costs are just now being passed down to Joe Public at the grocery store and we can only raise the minimum wage so high.
Out of all the sectors in the market, the one I am fixed on most is Application Software aka SAAS. They have been the darlings of Wall Street, being able to accurately predict sales and FCF growth down to a science, hammering into Fortune 500 companies with sophisticated sales tactics to annihilate their internal IT budgets in exchange for increasing the outsourcing of it. They have been extraordinary successful and a testament to this success can be seen in SHIT SOFTWARE company Salesforce.com being added to the Dow 30, truly an astonishing success considering how dreadful the product is.
Two things to consider when looking at SAAS valuations.
1. Never been higher.
2. Stocks are leading to the downside.
We are deflating valuations.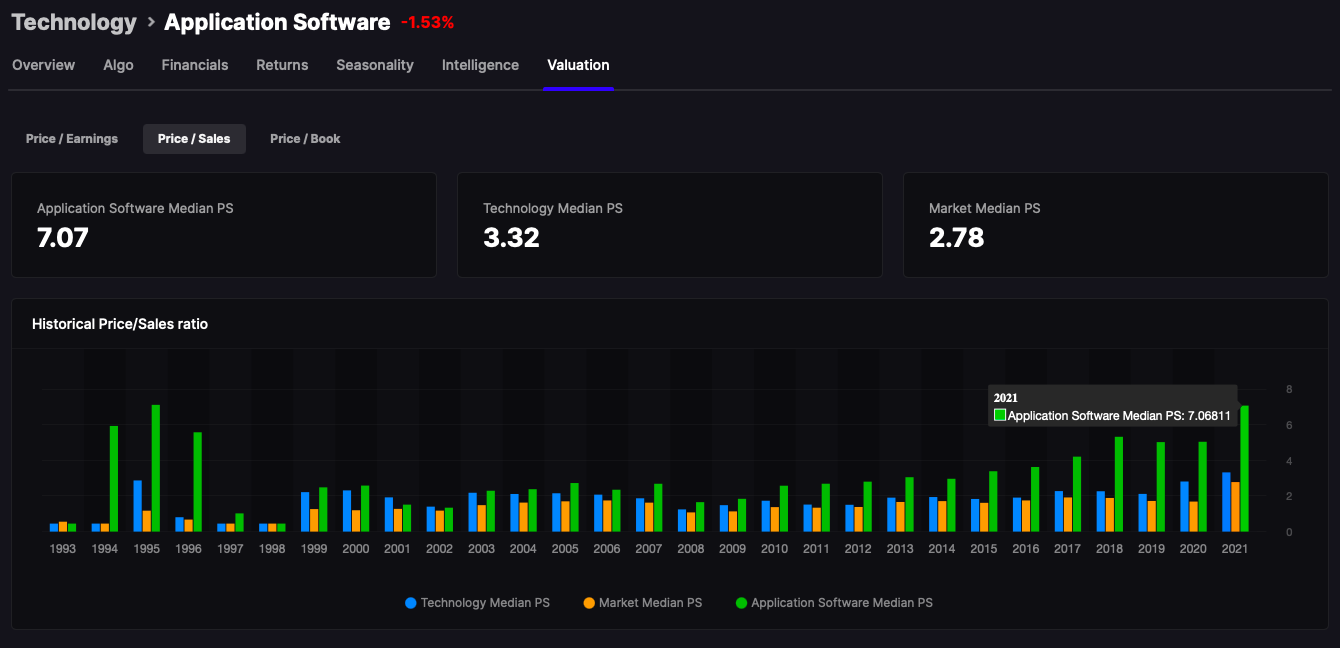 App Software stocks are trading 7x price to sales on a median scale. If we consider 2022 estimates, that number shrinks to 5.6x. From 2017 to 2020, App software valuations ranged from 4 to 5.3x, suggesting the sector needs to correct another 25-30% from already depressed levels.  Out of all the SAAS names out there I consider HUBS to be the best large cap company, vital to the industry, but also small enough to represent opportunity for tangible growth. Sporting 35-40% predictable and genteel sales growth and positive FCF, you cannot say Hubspot is a bad company without being branded a fucking liar. The stock is down 15% the past week, yet still trading at 27x sales.
See the problem?
If HUBS stock did nothing for 12 months, by next year after all of their sales were tallied, the PS ratio would be 20x, still substantially higher than traditional levels.
Application software stocks, as a whole, are lower by 17% over the past month.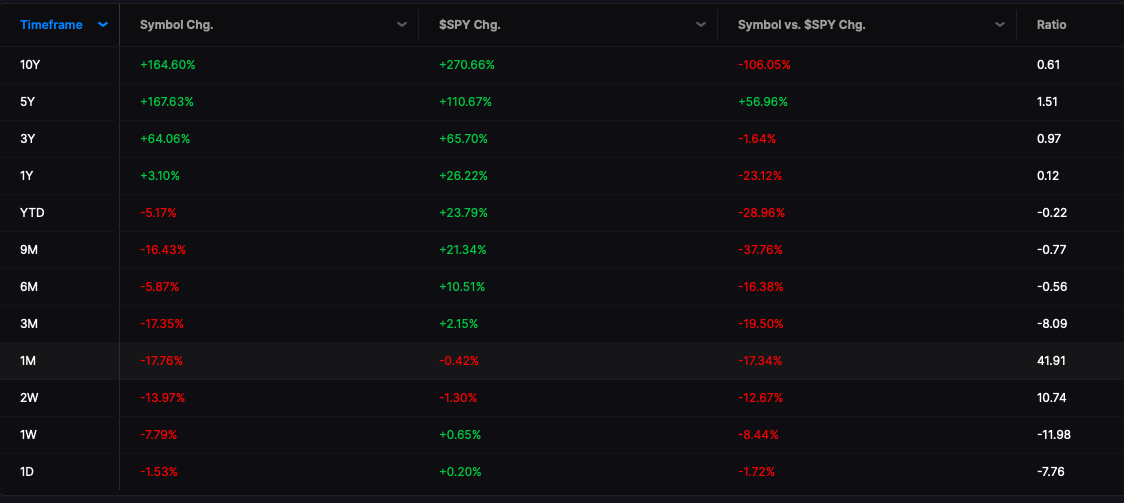 I used to justify the higher valuations with platitudes, such as "well the market is paying up for quality." Truth is, we are in a bubble. We are not only in a bubble, we are in a terrible bubble, supported wholly by central bank rigging. I say "rigging" because that's exactly what it is.
Chicken little the sky is falling.
Since 2009, barring the 2020 Coronavirus interlude, betting on decline has been a losers bet. The 2020 drop was forecasted early with the drop in leveraged loans. These declines in the shit-tier loan portfolios helped me short stocks with ease during the 2020 drop.
Charts for HYG (high yield debt) and SRLN. Weak, but not notable.
People like to malign debt because, on occasion, it caused crisis. Truthfully, without financing to the moon, the world would never have advanced so fast technologically and we'd still be using CDs to hear our music. With $18t in corporate debt publicly traded, we have $7 trillion in cash. Back in 1993, we had $255b in debt and just $24b in cash, or 10% of debt. We are at 40% debt coverage in corporate America, not due to chance, but by innovation and massive value creation, funded using debt.
Pardon for that sidebar. On the issue of what the fuck is happening in stocks, I have no choice but to conclude, without seeing signs of credit weariness in banks and/or credit, this decline should be treated as a plebeian liquidation that will pass. I am open to suggestion and can change my mind with new information.
If you enjoy the content at iBankCoin, please follow us on Twitter