A remarkable day at House Fly, as we've finally, after two years of painstaking development, launched Stocklabs.
I will not make this too pitchy — but I have to at least address the product launch.
What to expect inside SL?
A very fast, real time algorithmic based data platform with products stemming from our featured overbought to oversold mean reversion signals to the all new Intelligence signals designed to catch momentum. We have over 1000 paying members inside, many of which are active in providing ideas in real time. My trades are broadcasted live in the chat and via alerts system. I am +205% YTD. We also have a Quantitative strategy for longer term players, re-balanced once per month, +25% YTD. And I have my new YOLO account, which goes all in on one ETF per day based upon the Intelligence Algos.
If you're into fundamentals, we pipe in all sorts of data and provide valuation statistics and extrapolate price targets based upon median valuations over a 3 yr time frame. Everything is screenable and we've upgraded innumerable features that was in Exodus — like seasonality. We now show seasonal data by day and also hours of the day.
Lastly, we are still in development and have not gone into marketing mode yet, as I have 12 months of upgrades that I intend to add to the platform. These upgrades will come at no additional charge to you. This is the only platform that I use and the screening system is so good I have not used a chart in over a year. As a matter of fact, I have not even looked at one.
My returns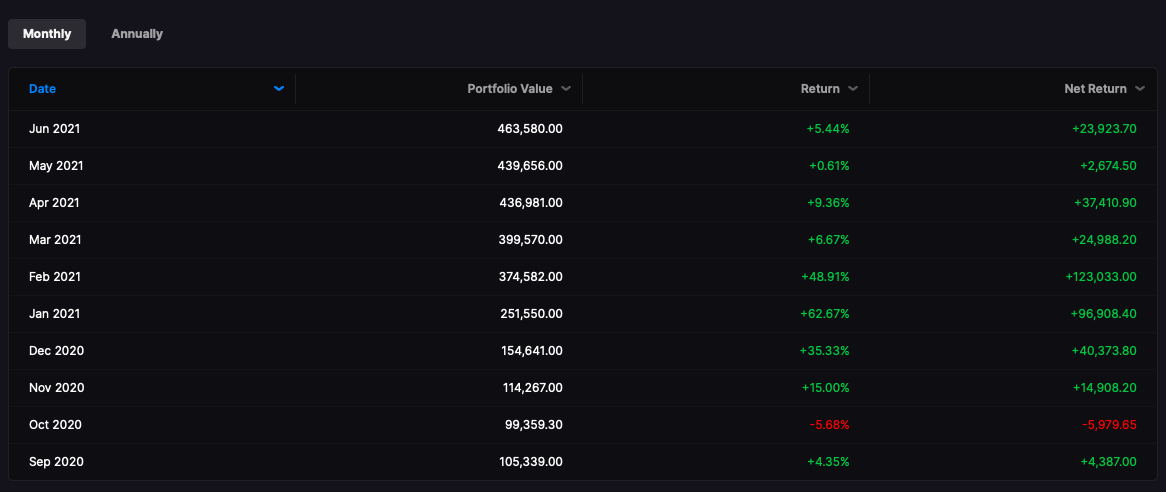 INDEUD.
If you enjoy the content at iBankCoin, please follow us on Twitter