Back when Mitt Romney tried up unseat Barack the Builder, we played coal companies and banked coin. Back in 2000, before the idiot Bush won, we played military stocks and won. This election cycle is easy to play: get long renewables, electric cars — more specifically solar and alt energy.
These stocks continue to rip higher on a daily basis, because Biden intends to spend money there.
In Stocklabs (sign up for coming beta trials) I have a custom index that points to all Biden plays. Composite gains are in the 100% range over 1 mo.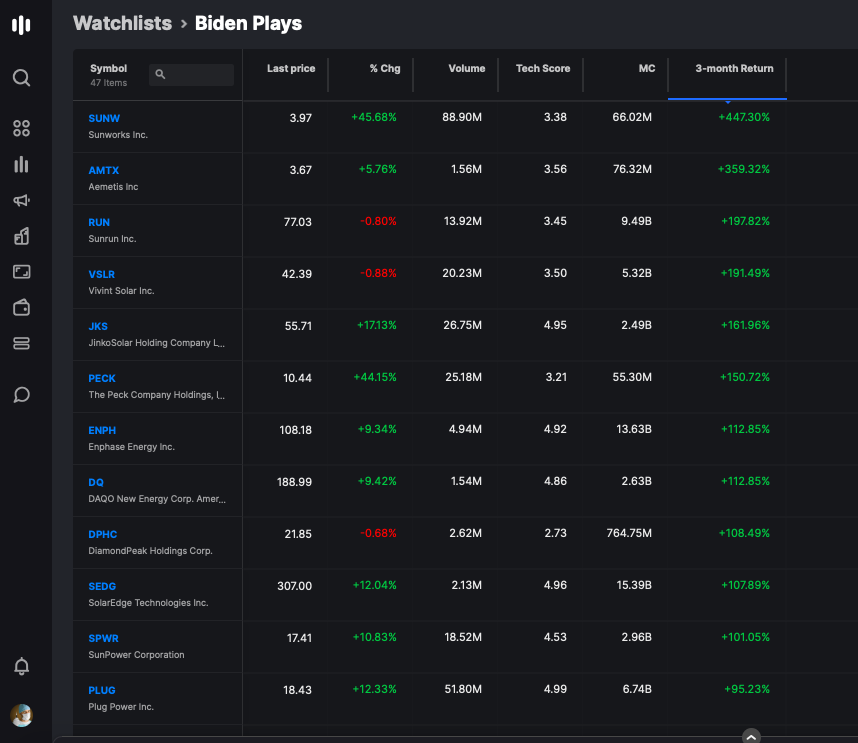 Will the pace quicken or slacken into the coming weeks? I suspect we are at or near the top end of the degenerate Bollinger band, so expect a sharp turn lower soon. If Trump gains in the polls, these stocks are going to be shot dead. I am talking about PLUG, RUN, JKS, and the gang. However, you can probably buy on dips into the eve of the election. After the election, stay away. Buy the rumor, sell the news. These stocks will be destroyed, amidst plumes of radioactive smoke, post election.
I closed out the day +540bps, about 55% cash — closed out 60 trades, mostly winners. I did miss a few gigantic runs, like IO — closed out for a +13.4% gain only to bear witness to it soar another 35% in the AHs. But that's the market we have and nothing is like it.
If you want to learn to trade — you've come to the wrong fucking blog. But if you prefer to sit fat and sloppily in your chair whilst being fed copious servings of fresh fish directly out of Poseidon's ass, come visit us in Exodus — the world's greatest trading room and data platform for traders with big dicks.
If you enjoy the content at iBankCoin, please follow us on Twitter